Sophie Lionnet: The 'toxic' couple who murdered their au pair
By Tim Stokes
BBC News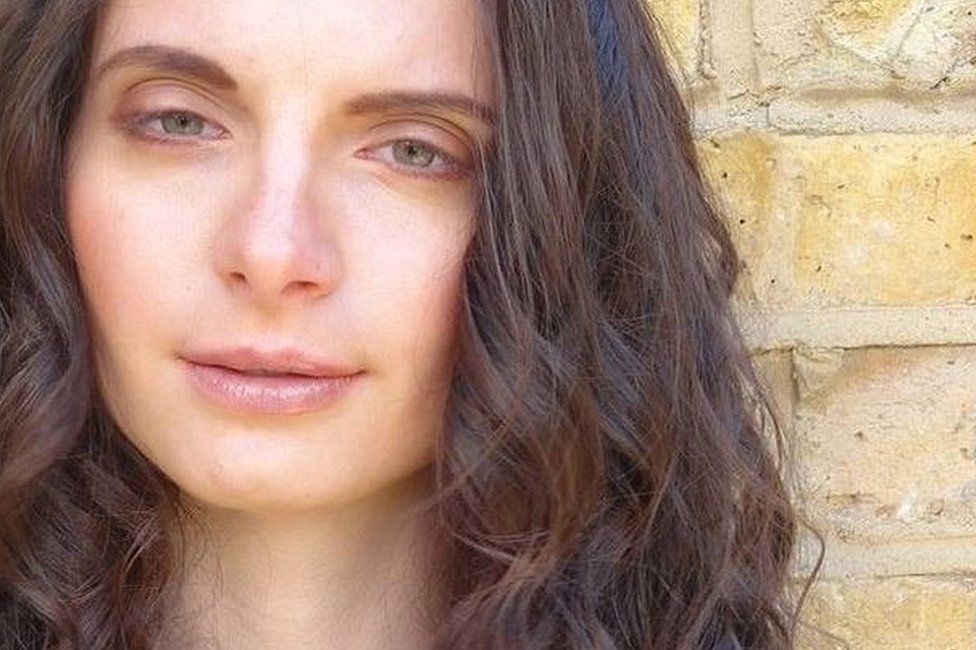 A couple who tortured their French au pair before burning her body in their garden have been convicted of her murder. Why did Sabrina Kouider and Ouissem Medouni kill 21-year-old Sophie Lionnet?
As a motive for murder, it is bizarre beyond belief.
Kouider, 35, suspected her former boyfriend Mark Walton, a founding member of the Irish pop group Boyzone, was having an affair with her young au pair.
The Old Bailey heard how she and 40-year-old Medouni applied "pressure and relentless intimidation" on Miss Lionnet to admit being in a sexual relationship with Mr Walton.
They insisted their young au pair had helped him come to the couple's home in the London suburb of Southfields to drug and sexually abuse the occupants.
Hours of footage recorded by Kouider and Medouni over several months showed a terrified Miss Lionnet also being accused of being a paedophile and a spy.
Threatened with rape, prison and more violence, she eventually made a confession to having an affair with Mr Walton - a man who told the couple's trial that she'd never even met.
Miss Lionnet, from Troyes in north-east France, had moved to the UK in January 2016 in order to improve her English.
"She was a pearl. Kind, gentle. She loved everyone, she loved making people happy," her aunt said, speaking about her niece at a march held a month after Miss Lionnet's death.
During the au pair's employment by the couple, she became known to various people in the Southfields community.
Local restaurant owner Michael Cromer, who had been in talks with Kouider and Medouni to go into business together, said Miss Lionnet would join them when they went to meet him.
She would sometimes also visit his fish and chip restaurant alone.
"She was always very quiet. She didn't want to communicate much," Mr Cromer said.
The business owner could sense the au pair was struggling but never imagined what was happening at the couple's home.
"Her body language showed there was something wrong... there were times when she had tears in her eyes so I asked her why and she said her mum was not well.
"Once she said Sabrina beat her... I asked why, and she said she had dropped the butter."
In reality, the abuse had been going on for some time. The videos of the couple's interrogations of her showed the 21-year-old becoming thinner over the months.
It was only after it was too late that the alarm would be raised, albeit inadvertently, by neighbours who called 999 over a foul-smelling fire in the garden.
Thomas Hunt, one of the first firefighters on the scene, soon realised a body had been burnt when he spotted a nose and fingers in the remnants of the fire, as well as clothes and jewellery.
He told the jury that when he turned to Medouni, the defendant told him it was the carcass of a sheep.
Miss Lionnet's body was so badly burnt the exact cause of her death has never been established, although post-mortem tests showed she had suffered fractures to her sternum, four ribs and her jawbone in the days before her death in September of last year.
In court, the couple blamed each other for the violence suffered by their au pair. Summing up the prosecution's case, Richard Howell QC described the "odd couple" as a "truly toxic combination".
Faced with such torment, why did the 21-year-old not abandon the couple's home on Wimbledon Park Road?
Ruth Bowskill, a chief prosecutor at the CPS, said Miss Lionnet had wanted to leave and had written to her family in France telling them this.
However, she believes Kouider and Medouni manipulated the "particularly shy" au pair, who knew little English, gaining control over her.
"Given the intimidation, the bullying and the behaviour towards her... it's likely that she didn't feel able to leave," Ms Bowskill said.
Investigators also never found the au pair's passport and a plane ticket her mother had bought her to return to France and believe the couple may have confiscated them.
The court was told about Kouider's erratic behaviour, including during her two-year relationship with Mr Walton.
She was accused of making up "dreadful stories about people, often of a sexual nature" and picking on those she saw as "weak".
The jury heard on one occasion she called police and accused Mr Walton of sexually abusing her cat - even though she did not have one.
She also accused him and his friends of flying helicopters over her home.
The court was told that in May 2017 Kouider was diagnosed with depression and borderline personality disorder.
While they would never have believed Kouider was capable of murder, some within the community had experienced how volatile the fashion designer could be.
"Sabrina was quirky, she had a bit of a temper," said Sunil Patel, who runs the local newsagent.
Mr Patel was aware of Kouider's fixation with Mr Walton.
"She was obsessed with this guy... she said 'have you seen this person', and she showed me this photo of a blond-haired man on her phone."
Mr Patel said that when he asked what had happened, she explained that he was "a very dangerous person" who had hurt her family.
"I said 'why didn't your nanny say anything about it?', and she said the nanny was complicit."
Mr Patel said although he thought Kouider's behaviour was "weird" he never imagined that her au pair, who also regularly visited the shop, was in any danger.
Speaking in October, Miss Lionnet's aunt described Kouider and Medouni as "utterly contemptible".
"I hope they pay a very high price."
Related Internet Links
The BBC is not responsible for the content of external sites.