Lewisham Labour chair suspended over Emily Thornberry Islamic State tweets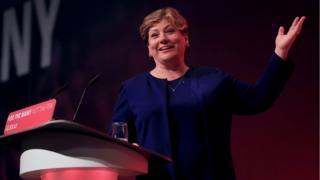 A Labour Party constituency boss has been suspended for tweets about the shadow foreign secretary being beheaded by the Islamic State (IS) group.
Lewisham East Constituency Labour Party (CLP) chairman Ian McKenzie said the group would behead Emily Thornberry instead of taking her as a sex slave.
Critics described the tweets, posted between 2015 and 2016, as "vile".
An investigation into Mr McKenzie's actions has now begun, the Labour Party has confirmed.
A Labour spokesman told the BBC: "The issue is being looked into. Ian has now been suspended pending investigation."
One 2016 tweet read: "Emily Thornberry is too old for ISIS [another name for IS]. They won't make a sex slave of her. They'll behead her and dump her in a mass grave."
A 2015 tweet, which appeared in a thread about Ms Thornberry's comments about the terrorist group, said: "Maybe she'd agree sex slavery to one man only, provided he didn't sell her on or insist on gang rape."
The tweets were brought to light by left-wing political activist and Guardian columnist Owen Jones.
Mandu Reid, who is standing for the Women's Equality Party in the Lewisham Easy by-election, called the tweets "abhorrent".
She said: "They are clearly sexist and require an immediate apology.
"If he is kept on it will signal, very clearly, just how invincible the Labour Party feels in Lewisham."
Candidates in Lewisham East by-election
Ross Archer - Conservatives
Janet Daby - Labour
Massimo DiMambro - Democrats and Veterans Party
Howling Laud Hope - Monster Raving Loony Party
David Kurten - UKIP
Mandu Reid - Women's Equality Party
Lucy Salek - Liberal Democrats
Anne Marie Waters - For Britain