Council workers 'abusing special parking powers'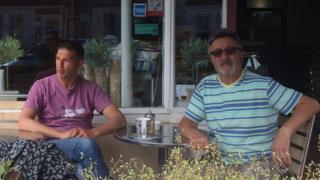 Residents in north London have claimed they often struggle to park outside their own homes because of council workers allegedly abusing special powers to park wherever they like.
Borough-wide permits were set up in Haringey to help people whose jobs involve stop-offs and visits around the borough, Haringey Council said.
But people on one street said council workers were parking in residential spaces all day.
The council is investigating.
Borough-wide permits allow people working for local businesses to park in residential parking bays across the whole of Haringey.
The council said these permit-holders could leave vehicles for as long as they liked, but that the permits were not intended for use in the same spaces every day.
People living on Ringslade Road said employees working in a council building one street away use their spaces for "commuting privileges".
Tony Madrugo said: "That blue car - we've often witnessed him parking here in the morning, locking up, and off he goes to his office, and leaves late in the afternoon."
Mr Madrugo's neighbour, Wayne Libonati, added: "We inquired with Haringey [Council] and they just fobbed us off."
He added: "If you come back at six o'clock, that car will still be there. That's not borough-wide, that's actually just parking to go to work, using [the permit] for commuting privileges."
When approached by the BBC, the man working for Homes for Haringey said claims he leaves his car all day were "definitely not true".
He added: "I go in and out of the office, so I'll be in and out in two minutes."
The group of residents claim there are often free spaces at the weekend, which they said proves people filling up the spaces during the week do not live nearby.
A Haringey Council spokeswoman said it was looking into the issues raised.
She added: "We have reminded council and Homes for Haringey staff of the terms of their permits to ensure that they are being used properly."