Ex-aide to Michael Fallon denies alleged sexual assault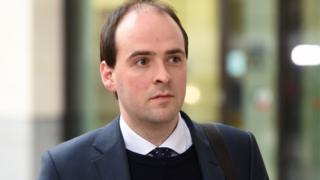 A former special adviser to ex-Defence Secretary Sir Michael Fallon accused of sexually assaulting a woman has told a court that it did not happen.
Richard Holden, 33, from Lambeth, allegedly attacked a woman in her 20s at a party in London last December.
It is alleged that while appearing to be under the influence of alcohol, he put his hands up her skirt.
Mr Holden, from south-east London, denied one count of sexual assault at Southwark Crown Court.
He told the court he was informed it would be "helpful" in the run-up to the general election if he resigned because of the sex offence charge hanging over him.
He was employed as a media adviser until earlier this year and had previously worked in a number of roles for the Conservatives. He also spent several years in the Tory press office.
Mr Holden told the court he was shocked when he got a call from police in February 2017 saying an allegation of sexual assault had been made.
The court heard that Mr Holden allegedly groped the woman - putting his hands around the complainant's waist before moving his hands up her skirt and touching her intimately.
It is also claimed that Mr Holden's flatmate, Stephen Canning, came over and pulled him off the woman - a claim Mr Canning denies.
The trial continues.