London's water pipes leak 36,000 times in six years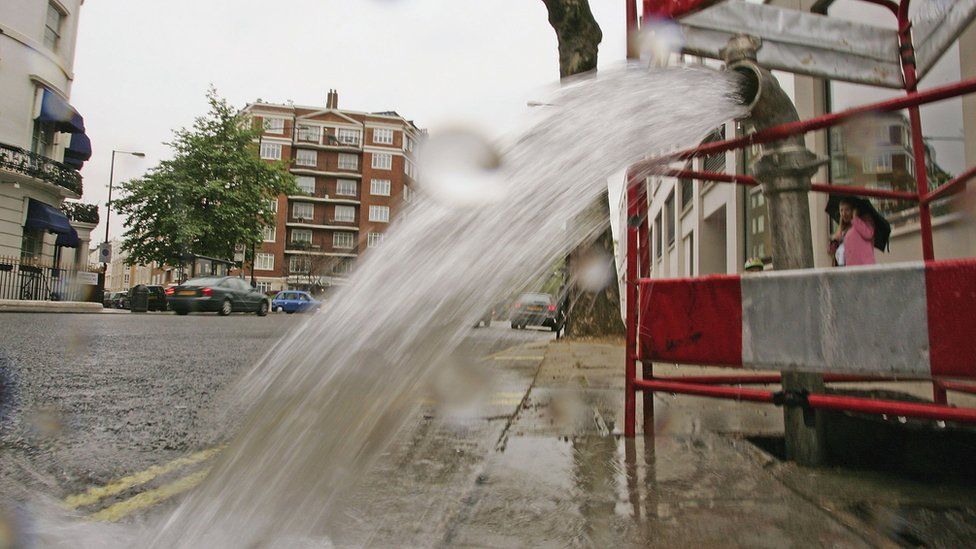 London water pipes have burst and leaked 36,000 times in the last six and a half years, water company data shows.
Some streets in the capital have seen more than 30 water leaks between November 2011 and February 2018.
Businesses in one street in Hammersmith believed the leaks were causing damp in their basements.
Thames Water said it was working to replace Victorian era water-piping, and is developing new methods to prevent major incidents before they happen.
Some local businesses along Blythe Road in Hammersmith, west London, which suffered 31 leaks in the period, complained of damp basements, which limited what they could do with them.
"I can't think of any other reason for it than these leaks", said Sharon Leslie, who runs a dry cleaning business in the road.
"We would have liked to turn the basement into a sewing room, but with all the damp it's just not been possible," she explained.
Bahman Moghaddam, a local chemist, said he was unable to store medicines in parts of his basement due to the damp.
"The damp has got better since Thames Water replaced the main water piping along the road though," he said.
Analysis of the data released has shown that central London has the largest concentration of leaks.
Over the period, the total number of leaks in the Thames Water area went up from 4,160 in 2012 to 4,809 in 2017. However the number has fallen from 6,154 recorded in 2013.
This comes as Thames Water has been criticised by Ofwat for "not paying enough attention" in solving leakage issues. The company will have to pay £120m to compensate customers for leaks.
Tim McMahon, head of water networks at Thames Water, explained why some areas saw more bursts than others:
"There are over 50 reasons why a pipe might burst. When water temperature gets below eight degrees you see an increase in bursts. Central London has clay soil, which attacks the pipes, and also has heavy traffic."
He said the company had committed large sums to fix leaks.
"Money is not an issue. Over the last year and the next two years, our board has committed to spending over £200m on proactively finding and fixing leaks."
London's leakiest streets
Oak Hill, Walthamstow, 33 leaks
Westhorne Avenue, Greenwich 32 leaks
Albert Road, Silvertown, 32 leaks
Shakespeare Road, Brixton, 31 leaks
Chamberlayne Road, Kensal Green, 31 leaks
Blythe Road, Hammersmith, 31 leaks
The number of leaks in each street has been calculated based on how many times the exact same location appeared in the data.
Westhorne Avenue in Greenwich sprang 32 leaks, according to Thames Water. However a further 18 were also recorded on the same road just over the border in Lewisham.
Leonie Cooper, Labour London Assembly and chair of the assembly environment committee, said: "It's disappointing to see an increase in leaks in Thames Water's area of operation, as it makes it all the more difficult to encourage customers to reduce their water usage when they see thousands of litres of water going to waste."
"London is a very dry city and we all need to waste less water - Thames Water included."
While Thames Water, Affinity Water and SES water were able to provide information on leaks at street level, Essex and Suffolk Water, which supplies water to Barking and Dagenham and Redbridge, could not provide information in sufficient detail to map water bursts in the area.