Stabbed GCSE student refused exemption by exam board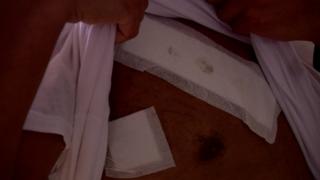 A boy who says he cannot sit his GCSE exams after being stabbed may be held back a year because his exam board will not honour his predicted grades.
The 16-year-old lost part of his lung when he was knifed in the random attack in Enfield, north London, on 7 May.
The Joint Council for Qualifications (JQC) rejected pleas from his head teacher and MPs to award the pupil his predicted grades of A*-A.
It said candidates must complete 25% of their exams for the grades to qualify.
'Devastated'
The pupil said he was not "physically or mentally" ready to take any of his GCSEs.
He was stabbed in the chest after an unprovoked altercation with a gang of teenagers in Enfield Memorial Park.
He spent a week in hospital but has since returned home.
The boy, who does not want to be named, said he feared a lack of GCSE qualifications may affect his future.
"Having no GCSEs could really affect who even considers having me on their team which could really get in the way of my life," he told the BBC.
His mother said she was "devastated" the board did not do" everything they could to help".
"It feels like they are leading him to the finish line but not helping him to cross it.
"My son is already suffering and the stress now of him worrying about his future is only adding to the problems."
The boy's head teacher Bruce Goddard, said: "The injustice of a student being stabbed - an innocent bystander in a park - and then told he won't be getting any grades, which he otherwise would have got, is just unfair."
Exam boards can grant GCSE certificates if a student has not completed their final exams in "rare and exceptional circumstances".
These include illness, being victim to a crime, injury, family problems and bereavement.
However, JCQ said in the boy's situation it would only give an honorary letter explaining why he could not complete his course.
"In this instance the student was unable to complete 25% of their GCSE exams. Therefore, the examination boards have offered to provide honorary awards that can be used with colleges, employers and universities to explain the circumstances involved."
The pupil can sit his exams next year, the JCQ said.