Minister completes walk over London's bridges for killed teen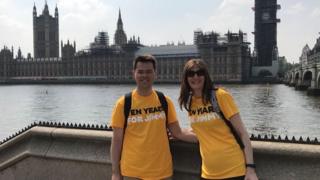 Cabinet minister James Brokenshire has completed a 22-mile walk in memory of murdered London teenager Jimmy Mizen.
The 50-year-old, who stepped down as Northern Ireland Secretary after being diagnosed with lung cancer in January, crossed 21 of London's bridges.
He is one of 300 people hoping to raise £50,000 for a charity set up after the murder of the 16-year-old.
Mr Brokenshire described Saturday's walk as "an incredible day raising funds for a great cause".
Jimmy bled to death in a bakery in Lee, south-east London, on 10 May 2008, after teenager Jake Fahri threw an oven dish at him.
Mr Brokenshire said the walk was especially poignant this year, coming on the tenth anniversary of Jimmy's killing.
It also comes amid a surge in violent crime in the capital, with more than 60 murder investigations launched by Scotland Yard this year.
"It's remembering Jimmy and all of those who have lost their lives to appalling knife crime," Mr Brokenshire said.
'Incredible challenge'
Mr Brokenshire, MP for Old Bexley and Sidcup, made a swift return to the Cabinet when he was appointed Secretary of State for Housing, Communities and Local Government last month.
He said: "At the start of the year, when I had my diagnosis, going in for surgery to remove the top lobe of my right lung, I certainly didn't think then that I'd be fit and well and able and doing a 22-mile walk.
"At that time, doing a one-mile walk seemed like an incredible challenge.
"But I've just been very blessed in picking up my tumour as early as I did, having successful surgery, having bounced back as quickly as I have done, and the incredible care and support I received from the NHS was outstanding and just very humbling."