Kensington murder inquiry after man fatally stabbed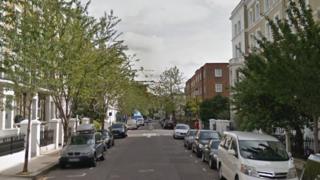 A murder inquiry has begun after a man was fatally stabbed in the street in west London.
The victim, believed to be in his 40s, was found with multiple knife wounds by emergency crews just after 22:20 BST on Wednesday.
Despite efforts by paramedics to save him, he died at the scene in Cathcart Road, Kensington, at about 23:00.
The Met Police said the victim's next of kin had been informed, although he has not been formally identified.
No arrests have been made in connection with the killing.
'People screaming'
A 24-year-old woman, who asked not to be named, saw the victim in the street just after 23:00.
"Our whole front room was lighting up and we wondered what it was," she said
"He was just laid in the middle of the road on his back. He wasn't moving.
"The guy was just laid diagonally across the street."
A man in his 20s, who said he heard two people screaming just after 22:00, said: "I went to bed around 10pm and was just sat there with my wife just reading something.
"Then, all of sudden I just heard two people screaming."
The man said the screams were "very, very loud" but only lasted for about four seconds.
The Met is treating the death as murder.