Woman dead and six injured in separate London attacks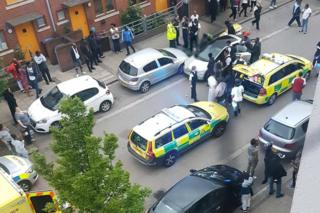 A woman has been stabbed to death and six other people have been injured in separate attacks in London.
The 28-year-old woman was found with stab wounds in a house in Neasden Lane, Brent, at about 02:30 BST.
Two other attacks in the same borough left a 24-year-old man with life-threatening gunshot wounds, while another man was left fighting for his life after he was stabbed.
Police said extra officers would be deployed "over the coming days".
A 43-year-old man has been arrested on suspicion of murdering the 28-year-old woman.
The two were known to each other and officers are not seeking anyone else in connection with the death, the Met said.
Paramedics treated her but she was pronounced dead at the scene at 02:45.
Officers were granted additional stop-and-search powers in Harlesden until midday following the other two attacks, which took place about a mile apart.
One man was found with gunshot injuries on Lawrence Avenue on Thursday evening at 20:45. He remains in a critical condition in hospital.
Two hours later, police found another man with life-threatening stab wounds in Rainborough Close.
Met Police officers are investigating if the two attacks are connected.
Scotland Yard said there was "no information" to support eyewitness reports that a machine gun was used in the attack.
Supt Tim Alexander said officers were "working around the clock to identify, locate and apprehend those responsible."
In Deptford a 23-year-old man was found with stab wounds in Creek Road at about 20:10.
He was taken to hospital following treatment by London's Air Ambulance.
A 28-year-old man was arrested on suspicion of causing grievous bodily harm after another man, thought to be aged 30, was found with stab injuries on Old Kent Road at about 03:30.
Police said his condition is currently unknown.
A man and a woman were found with slash injuries in St Elmos Road, near Rotherhithe, just before 11.30 on Friday. Police believe the pair were trying to intervene in a robbery.
They were taken to a south London hospital with non life-threatening injuries.
The Met Police have launched at least 72 murder investigations this year.