Ealing abortion clinic 'buffer zone' challenged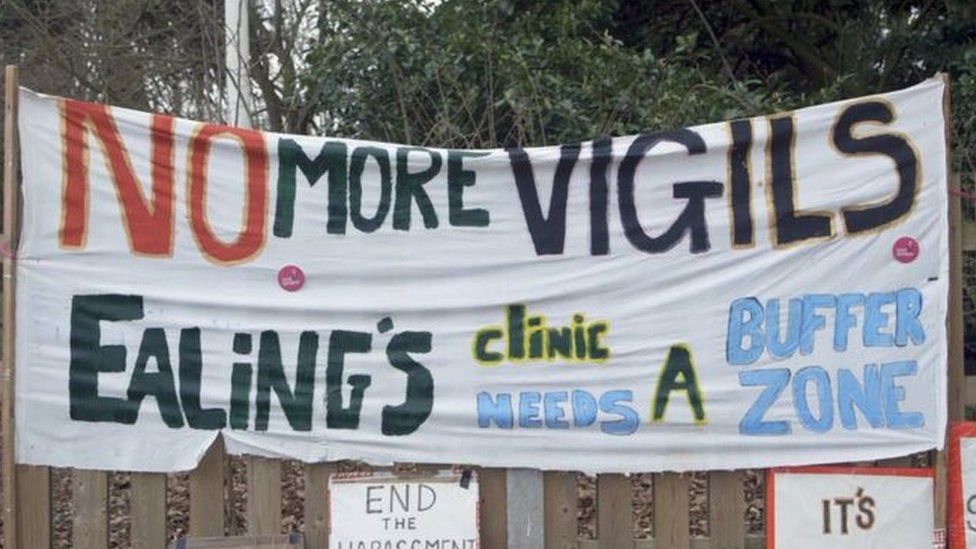 Campaigners have asked the High Court to rule that a council's ban on protests outside an abortion clinic is unlawful.
Lawyers for the Be Here For Me campaign claim the council did not have the power to make the public spaces protection order (PSPO).
The council argued that campaigners were still allowed to protest.
Ealing became the first council in the country to pass a "buffer zone" policy after reports of "intimidation, harassment and distress" for women using the facility on Mattock Lane.
Alina Dulgheriu, 34, from the campaign group, said she was offered financial, practical and moral help, as well as accommodation, and now has a "beautiful" six-year-old daughter.
During the hearing, her counsel, Alasdair Henderson, told Mr Justice Turner the group's case was not about the "morality or legality" of abortion.
"Not only do they condemn active harassment or intimidation - and they emphatically deny they have done anything approaching it - such behaviour would be entirely counter-productive to what they want to do," he said.
"Obviously they are pro-life, but their sole means of achieving that is to offer help and support to women considering abortion."
He argued that the court should declare the PSPO unlawful, invalid and an unjustified interference under the European Convention on Human Rights.
Kuljit Bhogal, counsel for Ealing Council, said the authority had to "delicately balance" the group's rights with those of the service users and clinic staff.
She said the group was able to continue to offer support and leaflets, pray, and there was no restriction on service users approaching them in the designated zone.
What the group could no longer do was interfere with a woman's entry or exit to the clinic, the court was told.
The PSPO allowed the group to continue their work with little or no impact on them save for a different location, Ms Bhogal added.
The judge reserved his decision to an as-yet unconfirmed date.
Related Internet Links
The BBC is not responsible for the content of external sites.