Fox on a hot London roof trends on Twitter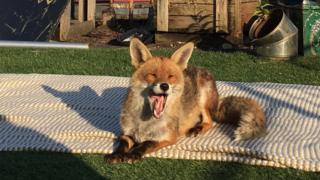 Pictures of a "suspiciously relaxed" fox sunbathing on a roof in London have become a trending moment on Twitter.
The wily vulpine crept up a fire escape onto a rooftop near Finsbury Park on Sunday before settling on a blanket to enjoy the evening sun.
Actor Tom Bell said he took the first tentative pictures of the fox through his kitchen window to avoid scaring it.
But in the end he was up close and said: "We probably could have petted it, it was so unfazed by us."
Pictures of the urban fox have been shared tens of thousands of times by animal lovers, with many of them tweeting their own similar experiences using #rooffox.
The building is an old warehouse repurposed for accommodation and the animal climbed up two storeys to bask in the evening sunshine.
You may also like:
Tom Bell, who has acted in TV shows such as Humans, and Lovesick, said: "You see a lot of them out and about at night but never have I had one so calmly relax on the roof in daylight.
"We gave him some food so hopefully he'll be back. It's been nice to have people share photos of other foxes sunbathing.
"If I had known the tweet would be so popular I would have tidied up a bit."