Jubilee Line workers strike called off in timetable row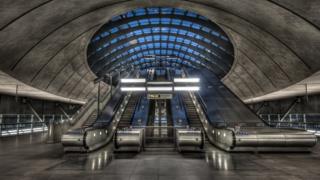 A 24-hour strike on London Underground's Jubilee Line over a new timetable has been called off just hours before it was due to start.
Staff who are members of the Rail, Maritime and Transport (RMT) union and the drivers' union Aslef had been due to walk out at midnight.
Talks were held at the conciliation service Acas earlier.
Unions said they were suspending the industrial action to allow further meetings.
Mayor of London Sadiq Khan confirmed the action had been called off, saying it would have "caused huge inconvenience for Londoners, businesses and visitors to our city".
"Since I became mayor I have been determined that relations between Transport for London and hardworking staff and trade unions improve.
"This shows what we can achieve by talking and engaging with staff," he said.
Transport for London (TfL) had called the strike "unjustified" and said the new timetable is beneficial to Londoners.
Aslef said the new timetable means drivers have to work more Saturdays, and that London Underground had "ignored every offer" to discuss the issue.
RMT general secretary Mick Cash said drivers were "angry at the impact on work-life balance" of the new rotas.
The Jubilee Line serves 800,000 passengers a day.