Lewisham flat fire: Residents evacuated from tower block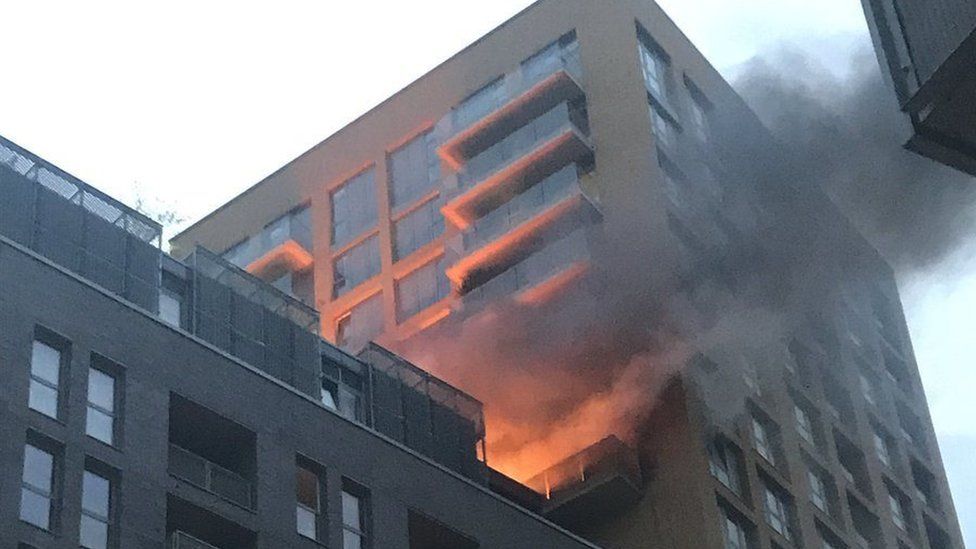 About 180 people were evacuated as a fire broke out in a 20-storey tower block in south London.
The blaze, in a flat on the 12th floor of the building on Elmira Street, Lewisham, started at 04:14 BST and was under control by 05:23.
Eight fire engines and 58 firefighters were sent to the scene.
London Fire Brigade (LFB) is investigating the cause and the Metropolitan Police said there had been no reported injuries.
Transport for London said that while firefighters tackled the flames, the A20 Loampit Vale was closed and buses were diverted.
A nearby leisure centre was used to accommodate residents who were evacuated from their flats, the Met Police said.
The fire service sent crews from Lee Green, Deptford, New Cross, Forest Hill and Lewisham after it received 16 emergency calls.
Most of the balcony and part of a four-bedroom flat on the 13th floor of the block were damaged.
LFB added a sprinkler system inside the tower was activated and suppressed the fire.
However, some residents complained that they had to rely on neighbours to alert them to the danger.
Christoph Mayr posted on Twitter: "Evacuated at four this morning. Fire is out and everybody is safe, but very concerned there were no alarms going off."
He said they were alerted by people in buildings opposite screaming at them.
Another, Caleb Parker, wrote: "I'm also concerned the alarm didn't sound.
"Once things settle down we need answers on that, and correct it for the future. So thankful neighbours banged on our door."
Lewisham Council said it was helping with the evacuation, and said at 07:37 BST that residents were being allowed to return to the building.
Related Internet Links
The BBC is not responsible for the content of external sites.