Moped teen 'highwaymen' handed life sentences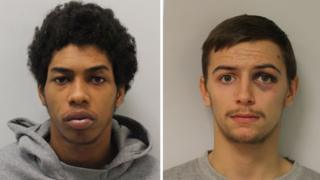 Two moped riders who stabbed a charity youth worker to death during a "four-hour spree of violence" have been sentenced to life in prison.
Nathan Gilmaney, 19, and Troy Thomas, 18, from Maida Vale, west London, killed Abdul Samad, 28, as they tried to rob as many people as possible on the evening of 16 October.
The pair were described as "21st Century highwaymen" in court.
Gilmaney will serve a minimum of 27 years and Thomas a minimum of 22 years.
A jury at the Old Bailey found them guilty of murder last month.
'Wicked' attack
Sentencing, Judge Richard Marks QC told the defendants: "Abdul Samad was an outstanding young man in his 20s, engaged to be married and had his whole life ahead of him.
"Your wicked stabbing of him has left his family understandably utterly devastated."
Gilmaney knifed the charity worker in the chest in an attempt to get the PIN for his phone, the judge said.
He said after being stabbed Mr Samad collapsed on his doorstep in front of his parents, while the robbers went looking for their next victim.
Their pair committed nine knifepoint robberies over four hours in north west London.
Gilmaney stabbed four other victims, who all survived, and admitted he attacked one man because he was "angry" he had tried to run away.
'Shocking' behaviour
Det Insp Shaun Fitzgerald said: "The teenagers believed they had the right to threaten and rob wherever they wanted, often stabbing their victims for no reason at all but to prove they could.
"Their behaviour is truly shocking, not least because of the fact they had just killed a man and could hear his cries and the paramedics battling to save his life with surgery in the street did nothing to slow down their spree."
Their victims included a 16-year-old girl who Gilmaney punched in the face, and a man who underwent surgery after Gilmaney stabbed him in the stomach, the force said.
The pair were arrested following a police chase, and officers found their pockets were stuffed with stolen valuables.
The judge described CCTV footage of their crimes as "chilling".
During the sentencing hearing, Gilmaney and Thomas talked to each other and repeatedly smiled and laughed together in the dock.
It was carried out in front of a packed public gallery, with several people dabbing their eyes as statements were read on behalf of Mr Samad's mother and girlfriend.
After the sentences were passed, Gilmaney shouted obscenities, and the public gallery had to be cleared after repeated outbursts.
'No intention to kill'
Gilmaney has a number of previous convictions, including for robbery and drugs offences.
He also suffers from attention deficit hyperactivity disorder and has an IQ of "barely 60", according to his barrister Dexter Dias QC.
Michael Turner QC, representing Thomas, said his client was acting as a getaway driver and had "no intention to kill".
He was "not the wielder of any weapon," Mr Turner added.
Thomas also has a string of convictions for other offences and was on bail at the time of the robberies.