Ladbroke Grove banned from making 'violent drill music'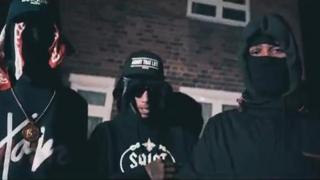 Five gang members caught with machetes and baseball bats have been banned from making "drill" music glorifying violence.
Members of the 1011 gang were jailed or detained for conspiracy to commit violent disorder, in Notting Hill.
Drill is a dark form of urban dance music often featuring violent lyrics
The Criminal Behaviour Orders (CBOs), thought to be the first of their kind, bans the group from mentioning death or injury in songs or on social media.
Yonas Girma, 21, Micah Bedeau, 19, Isaac Marshall, 18, Jordan Bedeau and Rhys Herbert, both 17, will also be required to inform police of new music videos and upcoming performances.
Recorder Ann Mulligan at Kingston Crown Court issued the three-year CBOs, following an application by the Metropolitan Police's Trident gang unit.
Officers caught the gang "red-handed" on 9 November 2017 after a two-year anti-gang operation.
The members of the Ladbroke Grove gang were thought to have been about to attack rivals from Shepherds Bush.
During their trial, the court heard the planned attack was in retaliation to a YouTube video of the grandmother of the Bedeau brothers being harassed.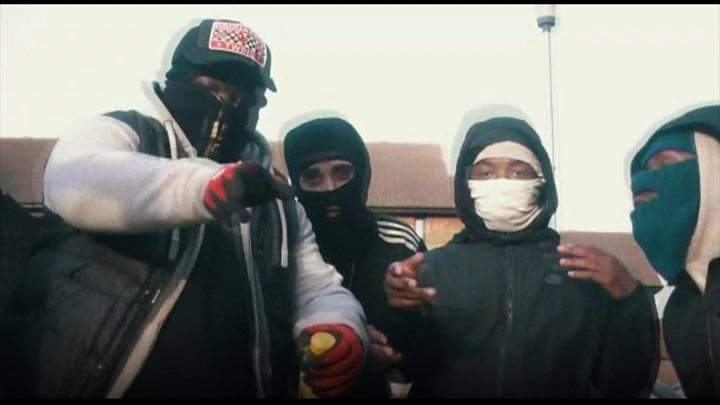 In the videos made by the 1011 gang members appear in balaclavas and full-face masks.
The videos featured sounds of gunshots and lyrics glamorising violent crime.
Before pleading guilty to violent disorder charges the gang insisted the weapons they were caught with were simply props to be used in a new music video.
Mic, a rapper and producer form north London, said the order "sets an ugly precedent".
He said: "There is a censorship problem in the country. There are a lot of young musicians in this country whose only outlet for expressing themselves is music.
"It might be violent but what do you expect in the Britain we're in right now?"
YouTube recently deleted just over half of the music videos that the Met Commissioner, Cressida Dick, said were inciting violence.
The Met has built up a database of more than 1,400 videos to use as an intelligence tool.