Loughborough Junction: Tributes to graffiti artists hit by train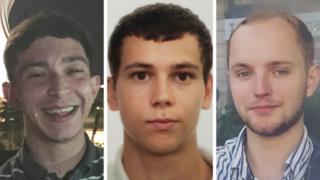 Tributes have been paid to three men killed by a train near a south London station.
Jack Gilbert, 23, Alberto Fresneda Carrasco, 19, and Harrison Scott-Hood, 23, were found dead on tracks near Loughborough Junction station on Monday.
Mr Carrasco's family said they were "painting graffiti late at night in a particularly dangerous place".
Mr Scott-Hood's parents said he was a "beautiful artist" and "kind man".
Mr Gilbert's family said the only solace they could find in his death was that "he died doing something he loved".
Railway graffiti: Props, respect and death
British Transport Police (BTP) said it is believed they were hit by an out-of-service passenger train shortly after 01:00 BST on Monday.
The train was forensically examined on Tuesday.
Susie and Perry Scott-Hood said their son, from Muswell Hill, was "loved by everyone".
"He was an intelligent and wonderful boy who had so many close friends," they said.
"Many people will know Harrison loved to travel, he was a beautiful artist and spent time recently travelling around Vietnam and Cambodia.
"Harrison completed us. He is irreplaceable."
'Rest In Paint'
Spanish-American national Mr Carrasco, from Hampstead, was due to start a course in graphic design in September, his family said.
A statement read: "His absence has left a deep hole in the family.
"We believe the three were hit by a train when they were painting graffiti late at night in a particularly dangerous place."
Meanwhile family said Mr Gilbert from Enfield, north London, had "endless" generosity and "lit up everyone's world just by being in it".
In a statement they added: "There are no words to describe the devastation we feel. He was a wonderful son, brother, uncle and boyfriend.
"His talent for art even from an early age was exceptional," they added.
"Everyone loved Jack and the only solace we have is he died doing something he loved."
At the scene, flowers and spray cans lie next to shutters spray-painted with "RIP" and love hearts.
Messages were left to the trio under the "tags" of Kbag, Lover and Trip on social media.
Many read "Rest In Paint", alongside images of painted tags on trains and walls.
Det Supt Gary Richardson from BTP said: "We have a dedicated team working to establish how these young men came to be on the tracks.
"The initial evidence we have been able to gather indicates that the men may have been on the track for the purposes of spraying graffiti."
The force warned of the "massive risk" graffiti artists make by trespassing on train tracks.
At the scene: Aurelia Allen, BBC London
By lunchtime today, a modest tribute had been left outside Loughborough Junction station - three bunches of flowers, three spray cans, and three letters sprayed in black - RIP. Otherwise, there was little sign of the young lives lost just a short way along the track.
I watched three teenage boys quietly add to the floral tributes, but it was the later arrival of a group of about 20 youngsters which marked a distinct change in the atmosphere.
At least two of them took out spray cans and begun daubing the station walls with 'RIP' and the nicknames of the young victims - undeterred by the presence of journalists or station staff.
They seemed angry and many were in tears.
One boy, Sam, told me he was best friends with Alberto Fresneda Carrasco. He said 'Alby' had died doing what he loved. A girl, who was visibly upset, described them as 'just kids'.
The graffiti they left amounts to criminal damage, but it doesn't look out of place. Almost every section of elevated railway infrastructure in sight had been sprayed - places I can't imagine anyone could reach safely.
The manager of a nearby garage told me graffiti was a problem in the area. Another local businessman said he'd seen youngsters climb up onto railway bridges at night.
Officers were called to the scene at about 07:30 on Monday and the three were pronounced dead.
It is understood spray cans were found near the bodies.
A tweet by former Transport for London (TfL) board member Brian Cooke described the dead men as "common scum who cost the railway millions and keep fares high".
His account has since become private but was captured and shared by graffiti magazine Frontline.
One Instagram user described the comments as "insensitive and ignorant", while another said he had gone "too far".
A Twitter user wrote: "Think before you vocalise such brutal opinions."
Mr Cooke was a TfL board member between 2012 and 2016.
He was removed as chairman of London TravelWatch after breaching the terms of his appointment by declaring his support for Boris Johnson days before the 2008 mayoral election.