Southgate Tube explosion: Five injured, two in hospital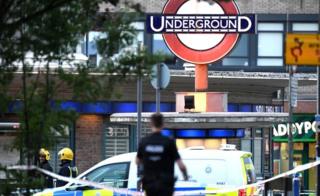 Five people were injured in an explosion at a Tube station.
Witnesses described smelling "burning rubber" and seeing "six-foot flames" at the entrance to Southgate Underground station in Enfield.
Police said the "minor explosion", at about 19:00 BST on Tuesday, was thought to have been caused by a battery.
Paramedics treated five people at the scene and took two to hospital. Police said they were "working to establish the full facts".
London Mayor Sadiq Khan said the explosion had been "confirmed as non suspicious" and thanked the emergency services "for a swift and professional response".
'Everyone legged it'
James Ayton, 34, from Southgate, was on the "packed" escalator when he saw a "quick burst" of flames at the top.
He said they were "six foot plus" and everyone "legged it" upon hearing a "rapid whooshing sound".
"The Tube had just unloaded. The escalator was full," he said.
"A few people on the escalator got trampled on. There was screaming.
"An old woman got trampled on. I had to carry a woman up the stairs. I think she was in shock to be honest. She couldn't walk, shaking."
He said he saw a Tube worker pick something up that was on fire and extinguish it but added: "I think that was secondary rather than the cause."
Haluk Ozkan was about to get on a bus outside the station when he smelled something burning.
The finance worker, 26, who was with his partner at the time, said: "We were just outside the exit. We could smell a burning smell, like burning rubber."
"We thought the bus engine had over-heated," he added.
"We then saw people rushing to get out of the station. Not necessarily running or panicking, but moving quickly.
"Then my partner saw a station staff member pointing a fire extinguisher at something and heard it go off, but we didn't see what it was directed at."
A London Ambulance spokesperson said: "We were called at 19:02 BST to an incident at Station Parade, N14.
"We have treated three patients at the scene for minor injuries and have taken two people to hospital."
Specialist officers said the cause of the explosion appeared to be a battery short circuit.
Enquires are ongoing to establish the "full facts", a Met spokesman added.
Cordons were put in place and the station was closed, although services are running this morning.