Rolling Stones fans caught up in Twickenham train chaos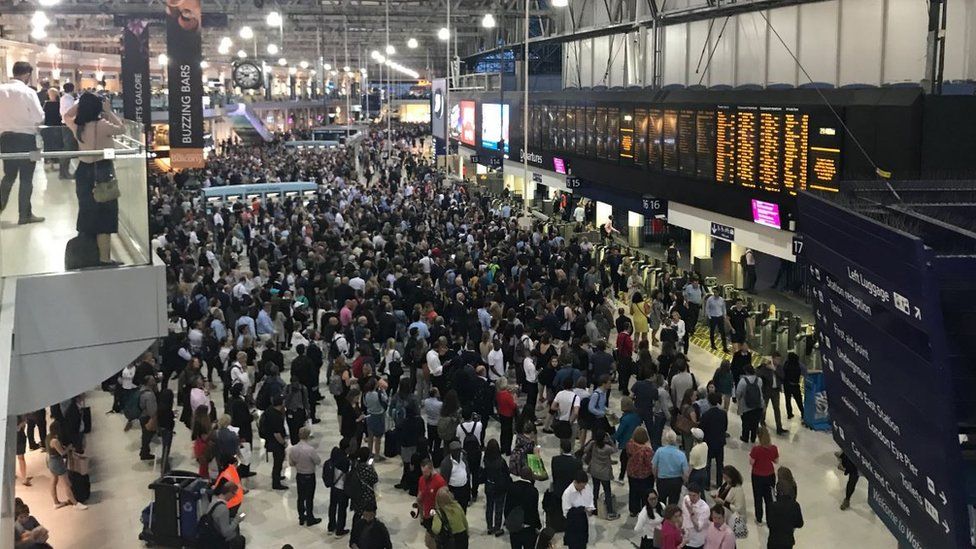 Thousands of Rolling Stones fans were left stranded on Tuesday night as travel disruptions caused havoc at several London train stations.
Passengers at London Waterloo - the UK's busiest station - and Stones fans leaving Twickenham Stadium were caught up in the chaos.
South Western Railway apologised for the disruption, which it said was caused by a "series of incidents".
These, it added, led to "knock-on delays" and cancellations.
Music fans leaving Twickenham Stadium, which holds 50,000 people, took to social media to complain about the lack of transport.
Lucie Scholey tweeted it took her three hours to get home and suffered "absolutely appalling service".
. @SW_Help how do I get compensation for the chaos at Twickenham last night? 3 hours to get home after the Stones gig, were told by Police/stewards to walk "10 mins" (it's 2.1 miles!) to Richmond, where all trains were delayed indefinitely anyway. Absolutely appalling service.

— Lucie Scholey (@luciescholey) June 20, 2018
Another passenger described London's transport as "a shambles" and a "complete embarrassment".
Have you heard about the chaos that was London last night with NO transportation available whatsoever for 50,000 people that came to see the Rolling Stones at Twickenham. London transport is a shambles and a utter and complete embarrassment!

— angela montero (@monteang) June 20, 2018
Passengers at Waterloo station were equally dismayed at the disruptions with one calling South Western a "complete and utter joke".
@SW_Railway You were a complete and utter joke this evening. Chaos at Waterloo and the usual level of useless updates and misinformation. 1000's of people stranded. Disgusting.

— Martin Poulter (@martinpoulter) June 19, 2018
Jamie Robertson said it had been "total chaos" at Waterloo.
Total chaos at #Waterloo this evening. No-one knows when trains are leaving, no-one knows where buses and taxis are going; have been waiting here 5 hrs and no decent information at all. Only - "just get the 1.05 train that gets in at 3.20 - maybe". @SW_Help

— Jamie Robertson (@JamieRob_) June 19, 2018
On Wednesday the train company said: "First, one of the lines through Clapham Junction was blocked by a train fault and then a damaged passenger assistance alarm caused another train to block the line at Vauxhall. A points failure at Waterloo further restricted platform access, compounding the delays.
"These incidents resulted in crew and trains being severely displaced leading to knock on delays and disruption with some trains terminating short of their destinations and some cancellations."
It added it had warned Twickenham Stadium about the problems and urged officials to direct concertgoers to other transport services where their tickets would be accepted.
Passengers delayed by more than 15 minutes due to rail disruption are entitled to compensation with details available on the South Western Railway website.
Related Internet Links
The BBC is not responsible for the content of external sites.