Rashan Charles: Police restraint death 'accidental'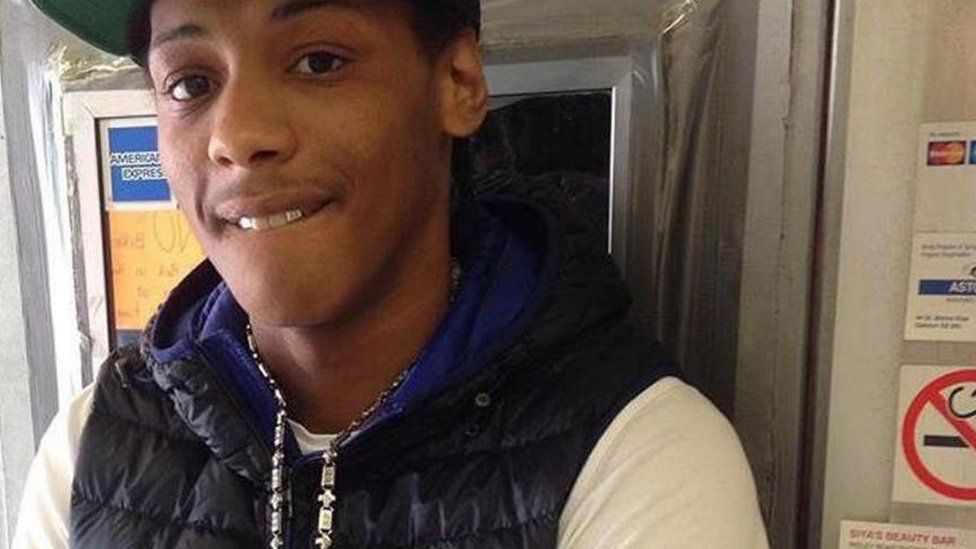 The death of a man who was restrained by a police officer was accidental, an inquest has found.
Rashan Charles, 20, died in hospital after police chased him into a shop in Dalston, east London, on 22 July 2017.
A jury at St Pancras Coroner's Court found the officer used "justified" force against Mr Charles but he failed to follow other police protocols.
Mr Charles's family said the inquest process was a "farce" and some pieces of evidence were "downright lies".
The father-of-one's death sparked violence and led to threats being made to police.
Coroner Mary Hassell read the jury's narrative verdict, which said Mr Charles died of a cardiac arrest and an obstructed airway during the restraint.
During the inquest, the court was shown CCTV footage of Mr Charles putting a "golf ball-sized" package in his mouth before he was grabbed from behind by an officer.
The officer, who was granted anonymity and referred to in court as BX47, then restrained Mr Charles.
An initial investigation conducted by the Independent Office for Police Conduct (IOPC) found the package, which was later removed from Mr Charles's mouth by paramedics, contained a mixture of caffeine and paracetamol.
BX47 failed to follow Met Police protocol by taking "immediate and appropriate action in the face of a medical emergency", the jury found.
It added that the officer had not managed the involvement of a passer-by, known as Witness 1, who said he put a finger down Mr Charles's throat in a bid to help him.
However, the jury said BX47's failures did not make a difference to Mr Charles's death.
It added: "Rashan's death was an accident, which occurred by virtue of deliberate human actions on the part of Rashan, the police officer who chased him and a civilian bystander."
Before the verdict came back, Mr Charles's family branded the inquest process a "farce".
Mr Charles's great uncle, retired Ch Insp Rod Charles said: "I have due respect for the jury... but I have rafts and waves of concerns with the process," the 54-year-old said.
The former policeman, who has more than 30 years' experience with the Met, said: "I have had to listen to implausible evidence at times, and at times downright lies."
He said the evidence of witnesses who had worked for the Met was "not impartial and not objective".
Mr Charles said the family would pursue all further legal options and have asked the Crown Prosecution Service (CPS) to review a decision to take no further action against an officer after considering a common assault charge.
Kim Vernal, the solicitor representing the family, said the inquest revealed deficiencies in police officer training around choking risks.
"Officers should be taught, if in doubt, to err on the side of caution," Ms Vernal added.
Deputy Assistant Commissioner Richard Martin said the Met will "take action" if the coroner recommends any improvements.
"If there is learning to take forward for the Met as a whole we will take action where we need to," he said.