Broadwater Farm estate tower blocks at risk of collapse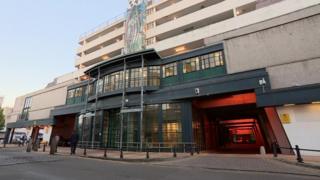 Two housing blocks on a north London estate are at risk of collapse and more than 200 families have been told they will have to leave their homes.
Checks carried out at the Broadwater Farm estate showed both Tangmere and Northolt blocks could fall if there was a gas explosion or vehicle impact.
Nine other buildings on the 12-block estate also failed lesser tests and work has begun to make them safer.
Haringey Council has recommended both Tangmere and Northolt are demolished.
The safety checks were carried out by the council following the Grenfell Tower fire last year.
Broadwater Farm estate was completed in the 1970s using the large panel system (LPS) method of construction.
The same method was used for Ronan Point in Newham which partially collapsed after a gas explosion in 1968.
Investigators found Tangmere and Northolt were at a much greater risk of collapse compared to other blocks on the estate.
The gas supplier Cadent has said it will switch off gas for the whole estate by the end of October this year because of the safety risk.
Haringey Council said it wants to begin re-housing people living in Tangmere "immediately".
Northolt residents will also have to leave their homes for safety work to begin although as it has no piped gas supply, no deadline for re-housing has been given.
The council said it can either strengthen the two blocks or replace them with new housing and plans to start a consultation with residents over their future.
Residents received letters informing them of the recommended measures this week.
A cabinet meeting on 26 June will decide whether the re-housing of Tangmere residents can begin.
Emina Ibrahim, cabinet member for housing and estate renewal, said the council was "committed to providing a safe, decent and affordable home for everyone".