Romford death: Boy killed in community centre party stabbing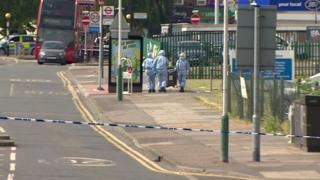 A 15-year-old boy has been stabbed to death in a fight after a birthday party at a community centre in east London.
Three teenage boys have been arrested on suspicion of murder and have been taken to separate police stations for questioning.
The Met Police said they were called to the centre in Romford on Saturday night after fighting broke out as youngsters left a birthday party.
The boy is the youngest victim to be fatally stabbed in London this year.
Police were first called to the North Romford Community Centre on Clockhouse Lane at 21:05 BST.
According to the Met, a fight broke out and the centre was damaged.
The BBC has identified more than 80 murder investigations have now been launched across London this year by both the Metropolitan and City of London Police.
A woman, who lives close to the community centre and gave her name only as Carol, described hearing friends of the victim screaming and sobbing.
She said: "I heard a lad crying down the phone 'he's dead, he's dead'."
"He was lying down in the road, there was a lot of blood. The police were working on him, they tried their absolute damnedest with that boy last night.
"Nobody should die like that."
Carol said youngsters spilled on to the surrounding streets after too many people showed up to the party and the community centre stopped letting people in.
Det Sgt Gurj Singh said: "Response officers who attended the initial calls were confronted with up to 100 youths leaving a birthday party gathering at a community centre."
Romford MP Andrew Rosindell said it was "devastating" that a young life had "so tragically been cut short on our streets tonight".
The boy's next of kin have been informed, although his identity has not yet been released.
A bus driver in his 50s was treated for a head injury at the scene, the Met said, adding that there were no other injuries.
Police have appealed for witnesses and a cordon remained in place on Sunday morning as investigators continued their search for evidence.
Elsewhere in London on Saturday, a man in his 50s has been arrested on suspicion of murder after the body of a woman was found in the back garden of a home in Greenwich.
Another man, 40, was taken to hospital after being stabbed in the neck, with what police believe to be a screwdriver, in Soho, central London.
A 36-year-old man has been arrested on suspicion of attempted murder in connection with that attack.