GP 'failed' in Lauren Sandell meningitis death case, inquest finds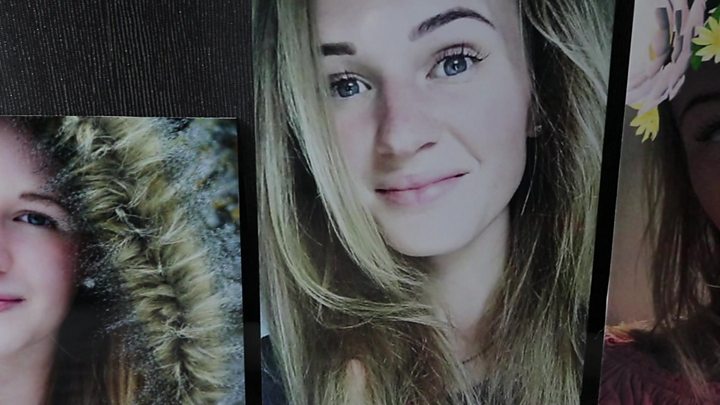 A young woman who died of meningitis W would "likely" have lived if her GP had given her a free vaccination, an inquest heard.
Lauren Sandell died of meningococcal sepsis after her GP practice said she had a two-week wait for the jab.
Recording a narrative conclusion, coroner Nadia Persaud said Lauren, 18, was not properly warned of the risks of going to university without it.
Sharon Sandell said her "vivacious, kind" daughter had been "let down".
Lauren's family thought she had food poisoning when she first became unwell at her home in Woodford, east London, on 2 October, 2016.
Her mother said she thought she was having a panic attack when she began struggling to breathe, but Lauren collapsed and died before an ambulance arrived.
The vaccine, Men ACWY, is offered free to all 14 to 18-year-olds and first-time university entrants under 25 because students are particularly at risk.
But Lauren had not been given sufficient information about the vaccine by The Broadway GP practice, the inquest was told.
"Lauren received no call or re-call from the practice. There was no alert placed on Lauren's notes to ensure that she was notified of the vaccination if and when she attended surgery," Ms Persaud said.
Ms Persaud said the risks around Lauren not receiving a jab were "not adequately explained" when her mother asked a nurse about them.
'Vaccine-preventable'
"Had Lauren received the vaccination prior to attending university, it is likely that her death on 2 October 2016 would have been avoided," she said.
According to Public Health England there were 30 cases of Men W in 2011/12 compared with 225 in 2016/17 - a more than seven-fold increase.
Vinny Smith, chief executive of the Meningitis Research Foundation (MRF) said: "We are deeply saddened by what happened to Lauren. It's a tragedy for a young person to die from a disease that is vaccine-preventable."
Meningitis can be difficult to spot because it is similar to common illnesses such as the flu - but it can kill within hours.
Symptoms of meningitis W
Fever, cold hands and feet
Refusing food and vomiting
Becoming drowsy and floppy
Pale, blotchy skin
Rapid breathing
Stiff neck
Moaning cry
Teenagers are the second most at-risk group for contracting meningitis, after babies and toddlers.
Living in close contact with other young people in university halls means students are far more likely to be infected if not protected by the vaccine.