Sophie Lionnet: Couple jailed for French au pair murder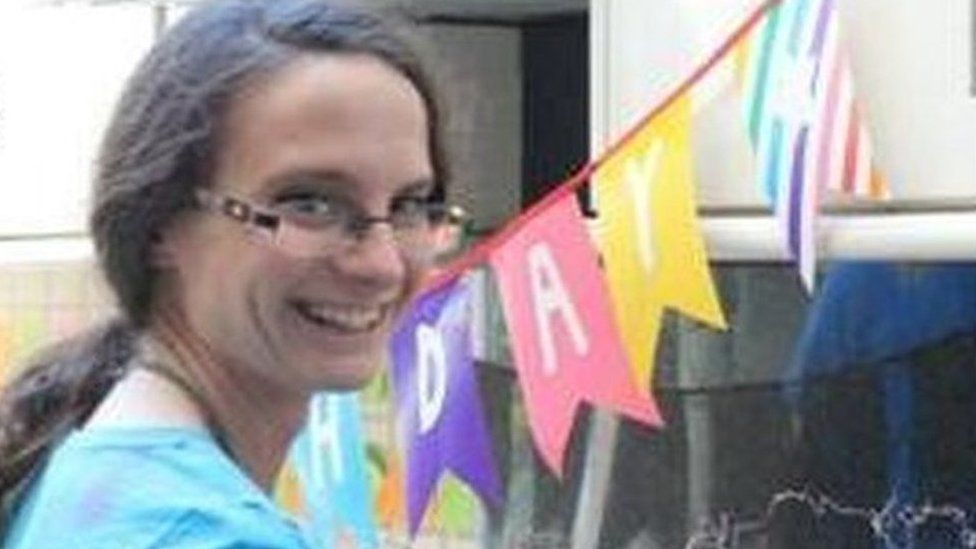 A couple who tortured and killed their nanny before dumping her body on a fire in their garden have both been jailed for a minimum of 30 years.
Deluded Sabrina Kouider, 35, and Ouissem Medouni, 40, became obsessed that Sophie Lionnet, 21, was helping ex-Boyzone singer Mark Walton abuse people at their home in London.
French national Ms Lionnet's body was found on 20 September last year.
Kouider and Medouni were jailed by Old Bailey judge Nicholas Hilliard QC.
The couple were found guilty of murder following a trial in which they blamed one another for Ms Lionnet's killing in their bath, each saying they were asleep at the time.
"Vindictive and overbearing" Kouider had also attempted to frame her ex-boyfriend Mr Walton for Ms Lionnet's disappearance as "revenge", the court heard.
Medouni, a former banker, had been "indoctrinated" by his lover to believe in the "complete fiction" of her claims about Ms Lionnet and Mr Walton's supposed abusive alliance, the court was told.
The couple then subjected Ms Lionnet to "relentless intimidation" to make her admit she was in league with the pop star.
As he sentenced them, Judge Hilliard said: "I'm sure on all the evidence you were both involved in torturing Sophie in the bath in the lead up to her death in making her think she would drown unless you gave her information you wanted which was not in her power to give because it did not exist.
"The suffering and the torture you put her through before her death was prolonged and without pity."
In an unusual move, Koudier penned a letter that was read to the court, in which she apologised to her victim saying she was "shocked and sad that you are not part of this world any more".
Sophie's parents Catherine Devallonne and Patrick Lionnet listened intently, with the help of interpreters, as the judge passed sentence.
Nine of the jurors had also returned to court to see the couple they'd convicted sent to prison.
Medouni and Kouider were silent and expressionless for most of the proceedings, flanked by security guards, a translator and a paramedic.
As he left the dock, Medouni turned and looked directly at Sophie's parents before being led away.
Sophie's parents left court without comment. Their daughter's body has already been returned to France.
Jurors heard more than eight hours of recordings in which Ms Lionnet was slapped and called "worse than a murderer" by her tormentors at their home in Southfields.
Kouider and Medouni dunked her head into water, starved her, hit her with an electrical cable and beat her so badly she had five broken ribs and a cracked breast bone, the jury was told.
Hours before her death, a film showed an emaciated Ms Lionnet apparently confess that she had drugged Medouni so Mr Walton could sexually assault him.
The couple then killed her before throwing her body on the bonfire in their garden as they barbecued chicken nearby.
When neighbours alerted firefighters to the pungent smoke, Medouni told them the charred remains were a sheep, the court heard.
The defendants later admitted disposing of Ms Lionnet's body but always denied her murder.
Speaking when the couple were convicted last month, Ms Lionnet's mother said her daughter was killed by "self-obsessed monsters".
Catherine Devallonne added: "They starved, tortured and broke her until she could no longer fight. They took away her dignity and finally her life."
In her apology letter, Kouider went on to say she and Miss Lionnet had "shared many good times together as well as pains until things went terribly wrong".
"I am suffering every day thinking of you and what happened to you that dreadful night. I only wish I could turn the clock back," she wrote.
In mitigation, the 35-year-old's defence lawyer attempted to persuade the judge her actions were "entirely driven" by mental disorders.
Icah Peart QC said the fashion designer's delusional and personality disorders left her with "irrational and completely overwhelming fear" Ms Lionnet had been recruited by Mr Walton.
However, Judge Hilliard told Kouider: "I do not think you thought for one moment you were acting lawfully.
"I'm sure you knew the way you interrogated her was unacceptable in the extreme, that it was unlawful to assault her and she was in a dreadful state by the time of her death and torturing her in the bath was totally and utterly wrong."