London knife attacks getting worse, says police officer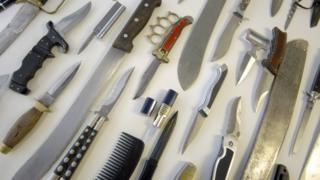 Knife attacks in London are becoming increasingly violent with injuries getting worse, one of the country's most senior police officers has said.
Met Assistant Commissioner Martin Hewitt said weapons like machetes were being used more often and more attacks were being carried out by groups.
Speaking at the London Knife Crime Summit, Mr Hewitt said the violence was "getting greater".
In the year to May 2018, there were 97 fatal stabbings in the capital.
The Assistant Commissioner said police were "routinely seeing multiple stabbings... and increasingly seeing group offending as well."
"Some of the CCTV footage that we see is shocking and quite frankly feral when you look at a group of individuals bearing down on another person," he said.
London Mayor Sadiq Khan, who organised the summit, told the audience the new Violent Crime Taskforce had carried out 615 weapon sweeps in the past week -seizing 135 knives and six guns.
On the first anniversary of his knife crime plan, Mr Khan revealed figures showing police coverage in London is at its lowest rate in 20 years.
There are now 3.3 police officers for every thousand Londoners - its lowest rate since 1998 and 19% below 2010.
The Met's day-to-day costs as a proportion of population has also dropped 20% in four years - the national average has seen a 6% reduction.
The net revenue expenditure per head of population reduced from £423 in 2012/13 to £337 in 2016/17.
The Conservative Party said it supported the mayor's efforts to provide financial support to the Met but questioned how the money was being spent.
Conservative London Assembly Member Steve O'Connell said: "Wastage is prevalent - overpaying of equipment, spending money on personality tests for staff.
"Payments to his central office MOPAC, have ballooned from 2016 to £10.5m."
Mr Khan said: "Every death on our streets is an utter tragedy, leaving families, friends and communities devastated.
"I make no apologies for relentlessly pushing the government to understand that cuts have consequences and that our police service desperately need more funding right now."