London Underground injuries up since Night Tube launch
By Sam Francis
BBC News, London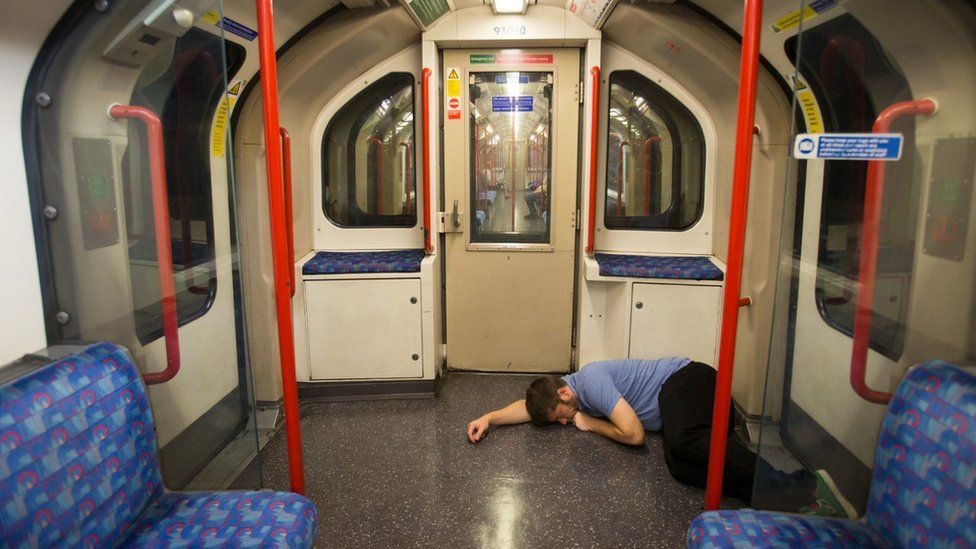 Injuries on the London Underground have risen by almost a quarter since the introduction of the Night Tube.
There were just over 3,000 injuries recorded on the London Underground in 2017, a 23% increase since 2015. It represents a rise from 1.83 injuries per million journeys to 2.27 - up 22%.
The Night Tube launched in August 2016, running on Friday and Saturday nights.
Transport for London (TfL) said: "The Tube is recognised as one of the safest metros around the world."
The rate of injury has returned to just below its 2013 level, when 2.28 injuries were recorded per million journeys. Before the Night Tube began operating the rate of injury had seen year-on-year reductions.
Several busy stations saw sharp increases in accidents, including Vauxhall where recorded injuries quadrupled to 39 last year.
There were 83 serious injuries recorded on the London underground network, a 34% increase since 2015.
Since 2010 there have been four recorded fatalities. Incidents believed to be suicides or attempted suicides are not included.
Chairwoman of London's Transport Committee, Caroline Pidgeon, said: "Ensuring our stations are properly staffed during every hour that trains are running has never been more important.
"There is no escaping the fact that every year London Underground provides a service for millions of people who have been out socialising at pubs, bars and nightclubs, including some people who have had far too much to drink.
"This is an ongoing challenge for TfL and its staff, and almost certainly far greater since the start of the Night Tube on Fridays and Saturdays."
TfL runs extensive advertising, advising people to be careful if they have been out drinking, especially in the run up to Christmas.
The Night Tube runs on the Victoria and Jubilee lines and most of the Central, Northern and Piccadilly lines.
The number of injuries has increased even as fewer passengers are using the tube.
There were 13 million fewer journeys on the Tube in 2017 than in 2016, a 2% fall.
You may also be interested in:
Manuel Cortes, general secretary of the Transport Salaried Staffs' Association (TSSA) said: "This just goes to show that when staffing levels are down, injury rates spike.
"We've consistently argued that staff keep passengers safe, whether in the case of a terrorist attack, to evacuate passengers, ensure platforms are not overcrowded or just to provide assistance for disabled or older passengers."
One in three London underground stations saw a reduction in the number of recorded injuries since 2015.
TfL's director of customer service, Brian Woodhead, said: "The safety of our staff and customers is our top priority and serious accidents on the network have been reduced by more than 300% over the last decade.
"However, we are never complacent and continuously strive to reduce injuries.
"All stations are staffed at all times that services are running and we have widespread CCTV coverage and help points should customers need assistance."
Have you been injured on the London Underground? Tell us about your experience by emailing haveyoursay@bbc.co.uk with your stories.
Please include a contact number if you are willing to speak to a BBC journalist. You can also contact us in the following ways:
Related Internet Links
The BBC is not responsible for the content of external sites.