Garage Nation music festival: Four men stabbed in fight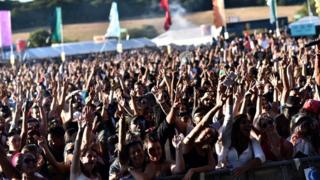 Four men have been stabbed during a fight at an east London music festival.
Two of the victims targeted at Garage Nation festival in Hainault Forest Country Park on Saturday were airlifted to hospital.
One of them, a 26-year-old, may have life-changing injuries, the Metropolitan Police said.
Officers believe the men were knifed during a fight in the VIP area before a group of male suspects ran towards the main entrance.
The other victims had less serious "stab and slash" wounds, the Met said.
The second victim who was airlifted to hospital, a 22-year-old, has non life-threatening injuries.
The third man went to an east London hospital with a less serious stab wound and has since left hospital.
The fourth was treated at the scene by medics and left before police arrived.
The Met were called at 19:35 BST and London Ambulance Service and London's Air Ambulance also attended.
There have been no arrests and inquiries continue.
There were 15,000 people expected at the festival and more than 100 garage, house and RnB artists were performing, according to the event website.
'Knives were pulled out'
Mel Dee was on her way to one of the bars at the festival with three friends when she saw one of the victims get slashed across the back.
"We saw him go towards someone in quite an aggressive manner. Then he jolted back," she said.
"They'd slit his back, slashed him. It was very deep, he was fuming."
The 21-year-old, from north London, added: "All of a sudden he'd ran towards whoever else it was and soon there were 15 of them. Other knives were pulled out.
"I could see people punching - arms flying everywhere.
"We ran as far away as we could."
Security concerns
Ms Dee said the security at Garage Nation was "dreadful".
She said: "They had a lack of security on the gate to get people through. They said, 'Can we check your bag?' and they got us to unzip our bags but they didn't search properly before letting us through.
"Other festivals I've been to are much more strict."
A spokesman from Garage Nation's promoters said: "We run a strict four-stage policy search regime.
"The security was procured and agreed in line with the planning that has been ongoing for 12 months."
Organisers said they are assisting police with the investigation.