Vijaykumar Patel death: Accused 'was happy' after fatal attack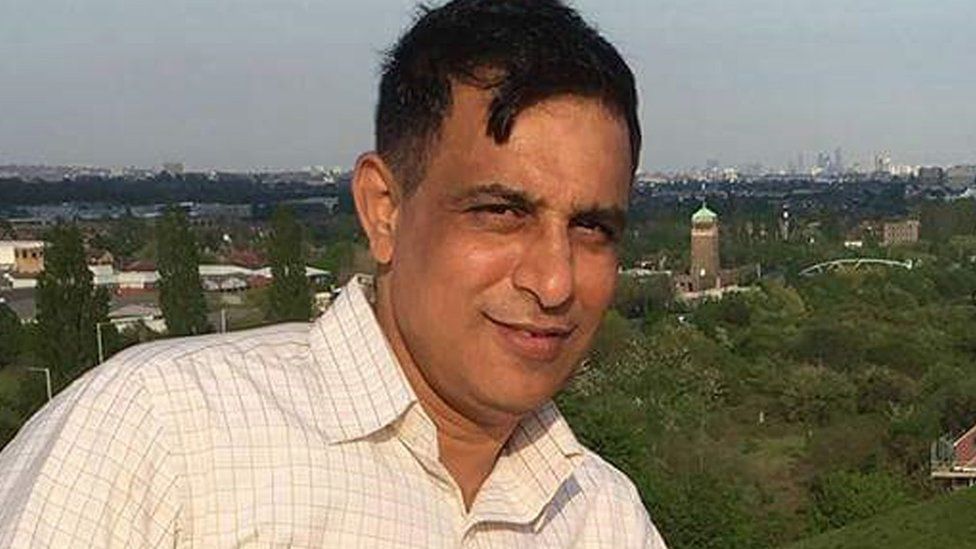 A teenager accused of killing a shopkeeper was seen "laughing, joking and happy" moments after the attack.
The boy fatally "smashed" Vijaykumar Patel, 49, in the face outside the minimarket where he worked in Mill Hill, north London, a court heard.
The defendant, who cannot be named because of his age, and two friends had allegedly been refused cigarette papers at the shop.
The boy, from north-west London, denies manslaughter.
Mr Patel was taken to St Mary's Hospital in central London after the attack on 6 January, but died in hospital the next day from an injury to the back of his head.
Louis Mably, prosecuting, told the Old Bailey that the teenager became aggressive and shouted abuse before hurling himself at Mr Patel outside the shop.
The attack was captured on CCTV which shows "the moment Mr Patel was hit", he said.
The accused, he added, "suddenly lunged at Mr Patel, flew towards him and smashed him in the upper part of his body with his right forearm".
He told the jury: "When the boy smashed into the lower part of his face it caused Mr Patel, with his hands in his pockets, to fall backwards onto the pavement and smash his head.
"It was that moment, that blow causing him to smash his head, that caused his death."
Mr Patel "had not really been involved" in the incident and "was standing with his hands in his cardigan pockets watching what was going on" when he was struck, Mr Mably added.
Another shop worker then chased the boys away with a billboard sign and a broom.
The boys were seen "laughing, joking and happy about what had taken place" as they fled the scene, Mr Mably told the jury.