Woman killed when speedboat 'seduction routine' went wrong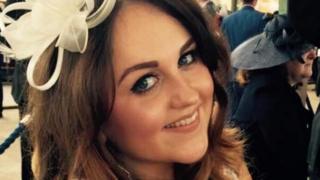 A man's "seduction routine" went horribly wrong when his speedboat capsized on the Thames and his date was killed, a court has heard.
Jack Shepherd, 30, of Paddington, is accused of Charlotte Brown's manslaughter after both fell from his boat on 8 December 2015.
The pair went on the vessel after ordering two bottles of wine during dinner, the Old Bailey was told.
Mr Shepherd denies manslaughter by gross negligence.
Police were called to reports of someone in distress near Wandsworth Bridge at about 23:45 BST. Ms Brown, 24, from London, died later in hospital.
The jury heard the pair had met hours earlier online and had been for a dinner at The Shard before going to Mr Shepherd's houseboat.
They then allegedly took a bottle of champagne on board the web designer's speedboat for a ride towards Westminster and back.
Prosecutor Aftab Jafferjee QC told jurors "the defendant's use of his speedboat to all intents and purposes as part of his seduction routine... went horribly wrong".
"In pursuing that single-minded objective his attitude to safety and his responsibilities to all on board... was so significantly compromised that it resulted in the death of a young woman."
The Old Bailey heard before leaving the Shard, Ms Brown sent a message to her sister and her friend saying: "He's taking me for a ride on his speedboat down the Thames. I'm sure it's safe and he's paying for my cab home."
More messages were exchanged as the night continued, with one saying they were on the boat with champagne, the jury heard.
Mr Jafferjee said it had not been the first occasion Mr Shepherd had taken women on his speedboat.
Mr Shepherd told police in an interview the day after the speedboat capsized that he bought it with the intention of "trying to pull women", the court heard.
He allowed his date to take the wheel of the speedboat knowing she was affected by alcohol, Mr Jafferjee said, adding: "It was cold, it was dark and it was, we submit, sheer madness.
"He did nothing to prevent her from speeding."
Jurors heard Mr Shepherd had been speeding at about twice the 12-knot limit that night.
His boat also had a number of defects, with life jackets - although not a legal requirement - tucked away out of sight and their availability "not made known to Charlotte".
The defendant had previously been stopped twice by police on the river who "impressed upon him the importance of making sure life jackets were worn by those on board", the court heard.
The trial continues.