Is Oxford Street pedestrianisation a pipe dream policy?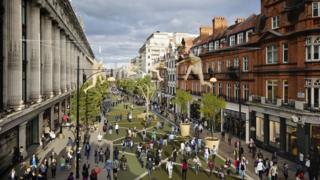 Oxford Street is the busiest shopping street in Europe but it is highly polluted and one of the most dangerous in London.
Pedestrianising is also what I'll call a "pipe dream policy".
Everyone talks about it but it never happens and is just a pipe dream.
(Also note road tunnels under Park Lane, bike lanes above rail lines and driverless Tube trains).
Improving the street is a conundrum that has dragged on for years.
The key point is that the road is owned by Westminster Council so, any improvements must be done with its approval.
The Mayor of London Sadiq Khan had a grand plan to pedestrianise it and, perhaps fatally, outlined it in his election manifesto.
Transport and politics can make uneasy bedfellows. (see: criticism around New Routemasters).
In his manifesto he said he would "restore London's air quality to legal and safe levels, with action to make travel greener and pedestrianise Oxford Street, while protecting the green belt". Now that plan is dead as Westminster pulled the plug.
Transport for London (TfL) had spent more than £8m on developing the plan and City Hall was left fuming as one of the Mayor's legacies was trounced.
Westminster had reacted to opposition from some residents and businesses who feared traffic would be displaced from Oxford Street into surrounding roads.
Politics came into play as the council changed its position in the run-up to the local elections.
And now it seems the temperature around this issue is increasing and the key relation between Westminster and City Hall is at best strained.
The Mayor has written to Westminster Council and told it TfL funding won't be forthcoming unless its new plan mitigates pollution, crowding and road danger.
The project was due to cost £60m with TfL presumably contributing a large part.
Westminster also wanted to use £400,000 of TfL Local Implementation Plan funding (LIP) to do another draft strategy. The Mayor says Westminster can't use it for that as it already has a strategy.
So what now? In his letter the Mayor points out that with the opening of Crossrail there will be 70,000 more entries and exits every day at Bond Street Tube station alone.
Surely keeping the status quo on Oxford Street is not possible?
Will Westminster listen to the Mayor? It seems unlikely.
Does that mean nothing will change on Oxford Street? What all of this shows is that for transport projects to progress they need consensus.
It also shows the limitations of mayoral power.
Perhaps the Mayor overstretched himself politically when he made those promises.