Private hire cars face paying London congestion charge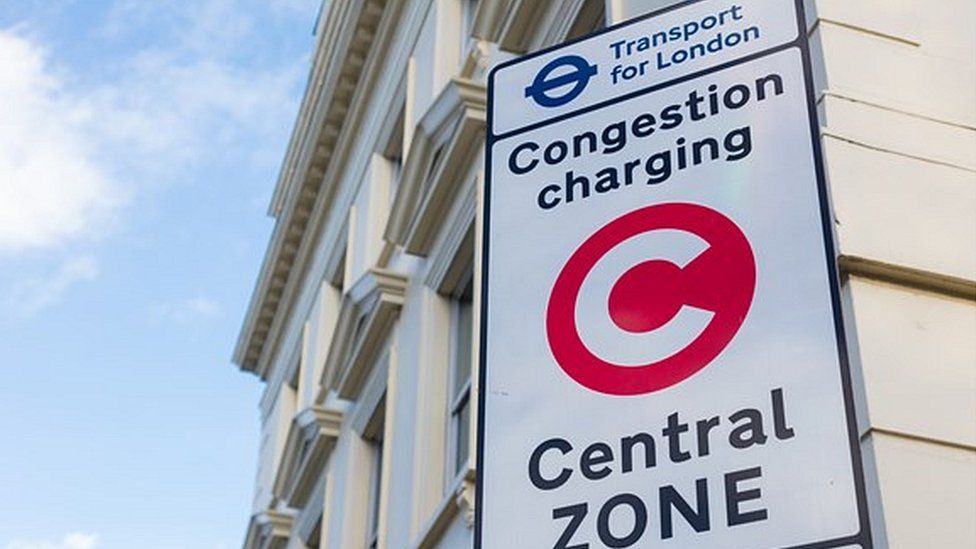 Private hire vehicles (PHVs), including Uber and minicabs, could be forced to pay the congestion charge for driving in central London.
Under new Transport for London (TfL) proposals to improve London's air quality, PHVs' exemption from the £11.50 a day charge would be removed.
PHV firm Addison Lee said removing the congestion charge exemption would "seriously jeopardise the wages of tens of thousands of PHV drivers".
The changes would begin in April 2019.
Since the congestion charge launched 15 years ago, the number of vehicles entering the zone each day has decreased by around 30%, TfL said.
But the number of different PHVs entering the zone in that time has increased from 4,000 a day to more than 18,000.
According to TfL, the removal of the PHV congestion charge exemption could reduce the number of individual PHVs entering central London by up to 45%.
"Removing these vehicles, which often repeatedly circulate within the zone, could reduce congestion and improve journey times for bus passengers, while reducing emissions," TfL said.
It is proposed that the exemption would remain for wheelchair accessible PHVs.
PHV company Addison Lee said removing the congestion charge exemption would represent "a very significant cost to the industry of as much as £250 per driver, per month".
"As well as seriously jeopardising the wages of tens of thousands of PHV drivers, the net impact of taking money out of the industry to pay the congestion charge would also be to undermine TfL's efforts to raise quality and safety standards," it said.
"Funds required by the industry and drivers to invest for improvements in safety standards would accrue to TfL instead."
Bridget Fox, sustainable transport campaigner at Campaign for Better Transport, said: "The congestion charge plays a vital role in cutting unnecessary traffic, keeping London moving and helping clean up our dirty air.
"It's right that TfL is keeping the congestion charge under review and integrating it with other clean air measures."
Related Internet Links
The BBC is not responsible for the content of external sites.