Pride in London sorry after anti-trans protest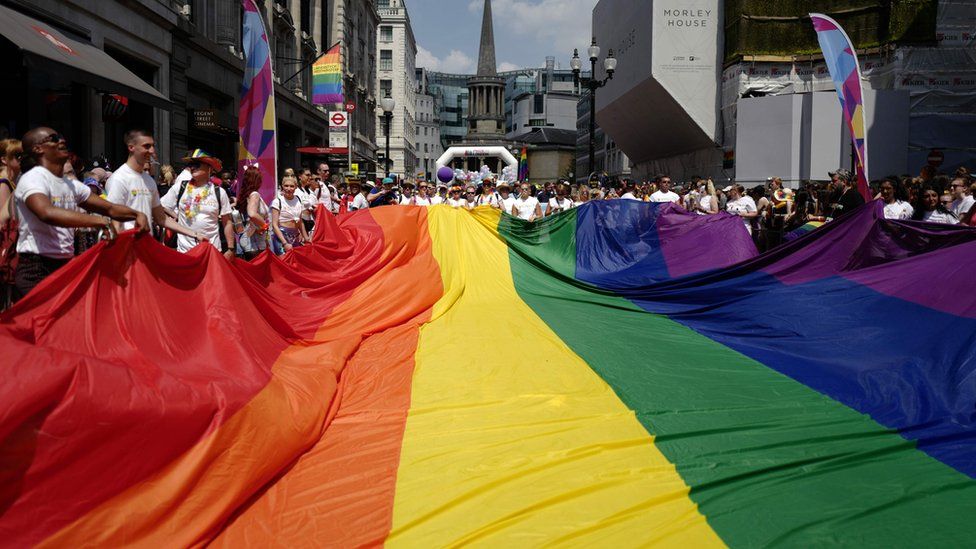 Pride in London organisers have apologised after anti-trans protesters "forced their way to the front of the parade".
Members of lesbian and feminist group Get The L Out demanded to march behind the rainbow flag, which marks the start of the event, organisers said.
The group argues the trans movement is attacking lesbian rights and said it protested to protect those rights.
Pride said their behaviour on Saturday was "shocking and disgusting".
It said they could not forcibly remove the small group because their protest was not a criminal offence, adding "we are sorry" but the "actions of eight people did not stop the joy and love".
"We are proud of our trans volunteers, proud of the trans groups that are in our parade, proud of our trans speakers at events and proud of the trans people who take part in our campaigns and proud of those who cheered even louder for them yesterday."
Up to one million other people are thought to have lined the streets to watch the event.
Patricia Curtis, of TransPals said: "It's disappointing that anti-trans activists decided to hijack the front of a parade, an insult to all the hardworking staff in the NHS whose place they stole.
"But their vile stunt failed. London is a place that doesn't tolerate hate."
A Get The L Out spokeswoman said: "We protested to protect our rights and on behalf of all the lesbians intimidated, threatened and silenced by the GBT community everywhere.
"The GBT community today, by supporting the rights of males who "identify as lesbians" (also called "transwomen") over the rights of lesbians to choose their sexual partners (on the basis of their sex, not how they "identify") is in fact enforcing heterosexuality on lesbians.
"This is a misogynistic and anti-lesbian manifestation of the rape culture we live in."
Related Internet Links
The BBC is not responsible for the content of external sites.