Speedboat death trial: Boat taken to Old Bailey as evidence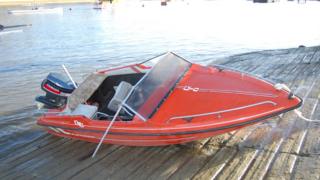 A speedboat has been taken into the Old Bailey as evidence in a manslaughter trial in what could be a legal first.
Jack Shepherd, 30, is accused of Charlotte Brown's manslaughter when they both fell from his boat during a first date in London in December 2015.
The boat, which Mr Shepherd bought online to allegedly "pull women", was brought to the court's car park for jurors to see at the trial.
Mr Shepherd, from Paddington, denies manslaughter by gross negligence.
The trial is taking place in his absence.
Mr Shepherd had tried to impress Ms Brown, 23, with a boat trip past the Houses of Parliament after a meal at The Shard, the court heard.
But when he let her drive, the boat hit a log and flipped over, and the pair were thrown into the River Thames.
The red 14ft Fletcher Arrowflyte GTO was transported on a trailer into the court through the rear gates to be produced as evidence.
The 12 jurors, who were accompanied by the judge and barristers, spent about 15 minutes inspecting the boat.
Judge Richard Marks QC encouraged them to to walk around and "have a good look" at it.
Prosecutors allege the 75-horsepower vessel, which had been moored beside Shepherd's houseboat in Hammersmith, had a number of defects and was speeding before the crash.
Earlier, port authority surveyor Andrew Thomas pointed out to the court various problems with the four-person 1980s vessel.
He said there was impact damage to the starboard bow, the cockpit windscreen showed general deterioration and the plywood seat bases had been water-damaged.
Its engine kill-cord was also "poorly maintained" and had no attachment, jurors heard.
Mr Thomas also said the steering wheel wobbled "backwards and forwards".
The life jackets were tucked in a container at the front of the boat, where they had been stored at the time of the crash, the court was told.
Jurors were also shown a video of tests on the water by officials after the crash, in which the boat reached a speed of 29.9 knots at 75% throttle.
The speed limit on the stretch of the Thames where the accident happened is 12 knots.
The trial continues.