Piccadilly Line Tube drivers' 52-hour strike suspended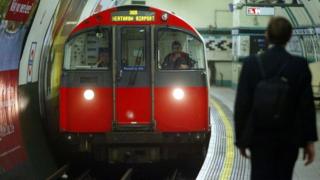 Tube staff on the Piccadilly Line have called off a 52-hour strike in a row over staffing and working conditions.
Rail, Maritime and Transport workers' union (RMT) members had planned to walk out from 21:00 BST until 01:00 on Saturday.
However, last-minute talks at conciliation service ACAS have seen the industrial action suspended.
If the strike had gone ahead, it would have coincided with England's World Cup semi-final against Croatia.
Up to 30,000 people are expected to be at Hyde Park, which is partly served by the Piccadilly Line, for a screening of the match.
The proposed strike action would have affected fans travelling home after the game, which kicks off at 19:00.
It would also have had an impact for crowds gathering for Donald Trump's visit to London on Friday.