'Murdered model Harry Uzoka had landed film role'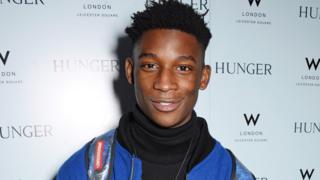 A male model had just landed a role in a film when he was stabbed to death by a another model amid a row about a girl, a court has heard.
George Koh, 24, allegedly murdered Harry Uzoka, 25, after claiming to have slept with his model girlfriend.
The victim collapsed and died from fatal stab wounds to the heart on 11 January after agreeing to a fight on social media.
Mr Koh, of Camden, is on trial at the Old Bailey and denies murder.
Giving evidence, Chuck Achike, a long-term friend of Mr Uzoka, told jurors Mr Uzoka was in a positive mood despite the escalating dispute with Koh.
"He said George said 'He f***** my girl', which I thought was petty and young," Mr Achike said.
"He knew it wasn't true and I knew it wasn't true."
Mr Achike said Mr Uzoka had got together with Ruby Campbell last summer after meeting her on a photoshoot in Los Angeles.
He added: "Harry had always wanted to be an actor and he had just got a role in a British movie and they had just sent him the script."
Although Mr Achike told the court he could not remember the name of the film, he said he knew it was a romantic fiction.
The court has heard that Mr Uzoka agreed to a fight with Mr Koh the following day.
He arrived for a confrontation on 11 January after recruiting his flatmate, Adrian Harper, and they were both armed with dumbbell bars, the court heard.
Mr Koh, along with Merse Dikanda and Jonathan Okigbo, both 24, took at least three knives, including a machete, the jury was told.
Mr Harper got away, but Mr Uzoka collapsed and died on Ollgar Road, Shepherd's Bush, west London.
Mr Okigbo, who is also from Camden, and Mr Dikanda, of no fixed address, deny murder.
The trial continues.