Disruption at Heathrow Airport as control tower evacuated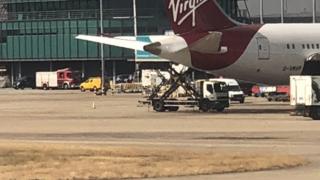 A number of planes at Heathrow Airport have been disrupted after its control tower was forced to evacuate.
The fire alarm on the airfield meant several flights were unable to land or take-off from the airport on Wednesday.
Flights were forced to divert to Gatwick and Stansted airports, while some had to return to their original destinations after take-off.
Heathrow Airport said the alarm had been investigated, and "operations" had resumed.
A spokeswoman for the National Air Traffic Services said "the control tower had been evacuated" after an alarm was triggered.
Passengers tweeted about being stuck on planes because of the delays.
Heathrow Airport has tweeted to apologise for the delays.
---
Analysis
By Tom Edwards, BBC London transport correspondent
Heathrow is one of busiest airports in the world with an average 210,000 passengers leaving and arriving every day.
At the moment airports are experiencing busy holiday periods - so to shut Heathrow's runways even for just 20 minutes has a huge impact.
Planes land every 90 seconds, so the closure will have a knock-on impact affecting thousands of passengers with delays - a few planes have even had to be diverted to Stansted.
That said, safety protocols at airports are normally extremely strict, and it looks like there was no option other than to stop flights while the fire alarm was investigated.
---
British Airways also cancelled a number of short-haul flights after being hit by computer problems on Wednesday evening.
A spokesman said: "As with a number of airlines, we are experiencing some disruption at Heathrow a result of an issue with a supplier IT system."
Virgin Atlantic said it is not affected by any IT issues at Heathrow.