Met corruption claims investigated by Independent Office for Police Conduct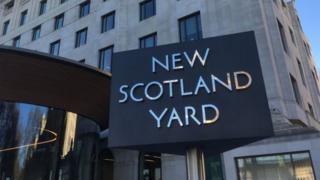 Allegations of "serious corruption and malpractice" within the Met Police are being investigated by the Independent Office for Police Conduct (IOPC).
Gross misconduct notices have been served on three officers, while "a number" of other officers are being assessed, according to the IOPC.
IOPC director Jonathan Green said claims of racial discrimination within the Met were also being investigated.
The Met said it was "fully co-operating" with the investigation.
A source told the BBC the investigation was at an early stage and may involve up to 14 officers.
It is claimed there are officers in the Met's Directorate of Professional Standards (DPS) who are said to have interfered with or curtailed investigations, according to Mr Green.
He added: "The investigation includes alleged interference in, and curtailment of, investigations by potentially conflicted senior officers, failure to investigate allegations of wrongdoing, systemic removal of the restrictions of officers under investigation and racial discrimination.
"As part of this investigation, three officers have been served with gross misconduct notices and one of those officers is also under criminal investigation.
"Assessments on the status of a number of other officers remains ongoing."
According to The Sunday Times, three whistleblowers from the Met approached the IOPC to allege members of the DPS were shielding officers from a range of allegations.
A Met spokesman said: "The Metropolitan Police Service has referred allegations regarding the conduct of a number of MPS personnel to the IOPC which is conducting an independent investigation.
"The MPS is fully co-operating with the IOPC investigation."
Over the last 50 years the Met has been through a series of corruption scandals.
In the late 1970s and 80s Operation Countryman investigated claims Met officers were working to help organised criminals.
The controversial investigation resulted in misconduct proceedings but no criminal convictions.
In 1994 a covert team was set up under Operation Othona, tasked with looking at claims police were conspiring with criminals including losing evidence, being involved with drugs, and running protection rackets.
The intelligence gathered led to the creation of a new anti-corruption unit CIB3 in 1998, which eventually became the Directorate of Professional Standards.
However a government-commissioned inquiry led by Mark Ellison QC revealed that many of the Othona files had been shredded in the past, making it hard to prove there was corruption.