'Snapchat queen' Fatima Khan guilty of boyfriend killing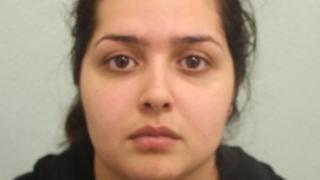 A "Snapchat queen" who posted a video of her boyfriend dying in a pool of blood has been found guilty of orchestrating his killing.
Fatima Khan, 21, plotted with a love rival to kill Khalid Safi, 18, who she had been seeing for two years.
Mr Safi was repeatedly stabbed in the chest by Raza Khan in North Acton, London, in December 2016, jurors heard.
Khan filmed Mr Safi as he lay dying in the street and posted it on Snapchat alongside an offensive message.
The self-confessed Snapchat addict denied murdering Mr Safi, saying she was "ashamed" of the video.
But a jury at the Old Bailey found her guilty of manslaughter by a majority of 10-1 on Tuesday.
The trial at the Old Bailey heard that Khan arranged for Mr Khan, a rival for her affections, to kill Mr Safi.
Prosecutor Kate Bex QC said Khan became upset when, five days before his death, Mr Safi gave her a watch as a gift.
Khan from Ilford, east London, threw the gift at him out of an upstairs window because her family did not know about the relationship, Ms Bex said.
The lawyer told jurors that Mr Khan was "a rival for her affections" and Khan was "essential to the success of the plan" to get rid of Mr Safi.
On the day of the killing, Mr Safi and Khan had gone to a Costa Coffee near to her work at Vigilant Security in North Acton.
Mr Khan then arrived in a minicab and walked up to the couple, holding a large knife, Ms Bex said.
"Raza Khan spoke briefly to either the defendant or Khalid Safi and then turned to face him, at which point the prosecution suggest the knife would have been in plain view.
"Mr Safi produced a screwdriver and they began to fight. The fight lasted 15 seconds at most and it is caught on CCTV.
"Mr Safi died at the scene having received a number of wounds to his chest, one penetrating his heart."
Khan was injured in the fight but left the scene and his whereabouts remain unknown, the court heard.
Defending, Kerim Fuad QC said Khan was ashamed at posting the "callous and crass" video on Snapchat.
She will be sentenced on 30 July.