London Underground commuters fainting at 'alarming levels'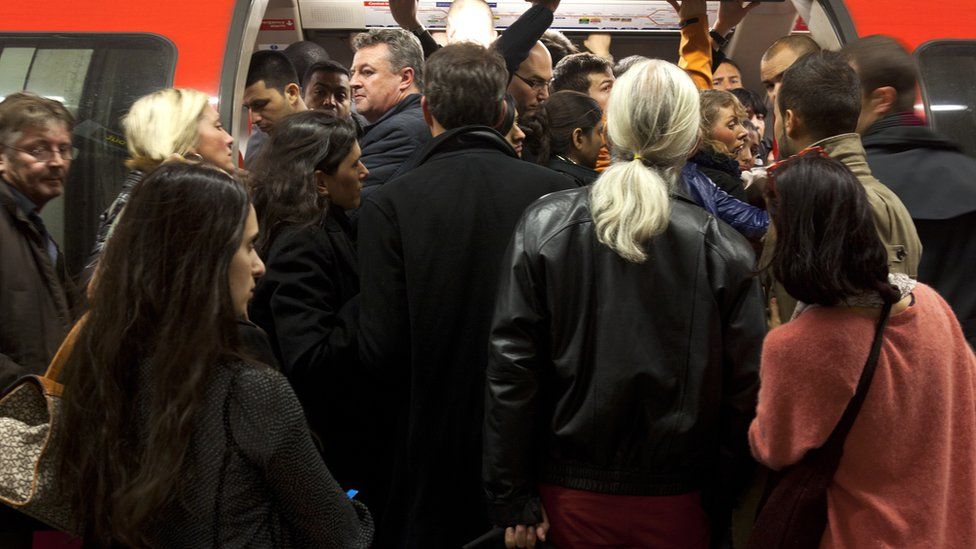 Hundreds of commuters have fainted on the London Underground during morning rush hours, the BBC has found.
Since 2016, 825 people have fainted or felt faint while travelling on the Tube between 08:00 and 08:59, Transport for London (TfL) data shows.
The RMT union described the numbers of people fainting as "alarming".
Passengers raised concerns about the heat and overcrowding, but TfL insisted it "constantly" tried to keep temperatures down.
Figures obtained by the BBC showed the most common day of the week for people fainting was Monday, closely followed by Thursday.
King's Cross St Pancras, the busiest station on the Tube network, recorded the highest number of fainting incidents between January 2016 and May 2018, followed by Green Park and Liverpool Street.
The RMT said transporting humans in such excessive heat was dangerous and claimed a lack of air conditioning on Tube trains was a "huge contributor" to the amount of people fainting.
General secretary Mick Cash added: "Overcrowding on Tube and rail services is a daily nightmare for thousands of passengers and its no surprise that more people are passing out."
'Pressure on chest caused me to faint'
Earlier this year, commuter Holly Brown, from Putney, felt temperatures at Oxford Circus Tube station were "unhealthily high".
"I have fainted a few times on the Tube," she said. "Notably in the summer but also in the winter when there are way too many people packed into the carriages.
"People genuinely can't breathe at times. I was once crushed between two large men who pushed on to the train at Liverpool Street - which was already so packed.
"I was so squished that the pressure on my chest and the lack of air caused me to faint."
The 23-year-old said she fainted while standing up because the Tube was so crowded.
"Something needs to be done," she added.
"Whether more carriages are added, or a better air conditioning system is put in place. As it stands at the moment, it's very dangerous."
Similarly, London student Tia Jones said she fainted for the first time in her life on an overcrowded Tube into central London.
"In the minutes I got on the Tube it went from really cold outside to really hot on the Jubilee Line and I started to feel quite faint because of the heat", she said.
"There should be some kind of cut off point to how many people you can cram onto this tin that we travel to and from work in."
In July, Chris Taggart, head of operations on the Central Line, addressed the worries of passengers who felt temperatures were too high.
When asked about plans to solve the "unacceptably hot conditions", Mr Taggart said new trains with improved air conditioning would be launched in 2030.
You may also be interested in:
The response garnered some criticism on social media with many asking whether he meant at 20:30 - half past eight in the evening - rather than in 12 years' time.
But which will come home first?

— Pumpkin Spiced Lartey 🎃 (@giloi) July 24, 2018
In 2030 my currently hypothetical children will be on school summer holidays and I'll be using my hover car but OK, thanks. https://t.co/DmUkLPZbJu

— B (@TweetsByBilal) July 24, 2018
Another commuter, Mark Peters, 34, from West Ruislip, said he "blacked out" as temperatures became "unbearable".
"I just remember feeling overwhelmingly warm," he said. "It just got worse and worse as more and more people got on to the Tube.
"I wear a suit for work and had taken my jacket off but that wasn't helping. The next thing I knew I had blacked out.
"I can't remember the last time I fainted, so it came as a real shock to me."
Many disgruntled passengers complained of the heat on the Tube - with many taking to social media to thank those who helped them when they fainted.
A man just fainted (from standing) on our Tube carriage. At least ten people jumped in to help, ringing passenger alarm, checking conciousness, asking about injuries, offering water, giving him a seat. London is great.

— David Hutchison (@gingerandloud) June 28, 2018
Massive thanks to the lovely men on the @wlooandcityline just now and the truly wonderful staff at Waterloo tube station for helping me when I fainted! Moral of the story - don't run for tubes in a heatwave 😓

— Ellis Emily Ford (@ellisemilyford_) July 24, 2018
The amount of people who came to help after I almost fainted on the tube was heartwarming. A massive thank you to the lady who fanned me with my book and insisted she came to Pret with me so I could get something sweet 💕 #restoredfaithinhumanity

— e l e a n o r (@elllhardy) October 9, 2018
TfL said it currently had air conditioned trains on 40% of the London Underground network.
"The safety of our customers is always our first priority and our staff are trained to assist anyone who feels unwell", a spokesman said.
"The quickest way to get support from our staff and assistance from the emergency services is to wait until the train is at a platform and then to help the ill person disembark."
Related Internet Links
The BBC is not responsible for the content of external sites.