Accused PC Joshua Savage: 'Officers scared to make arrests'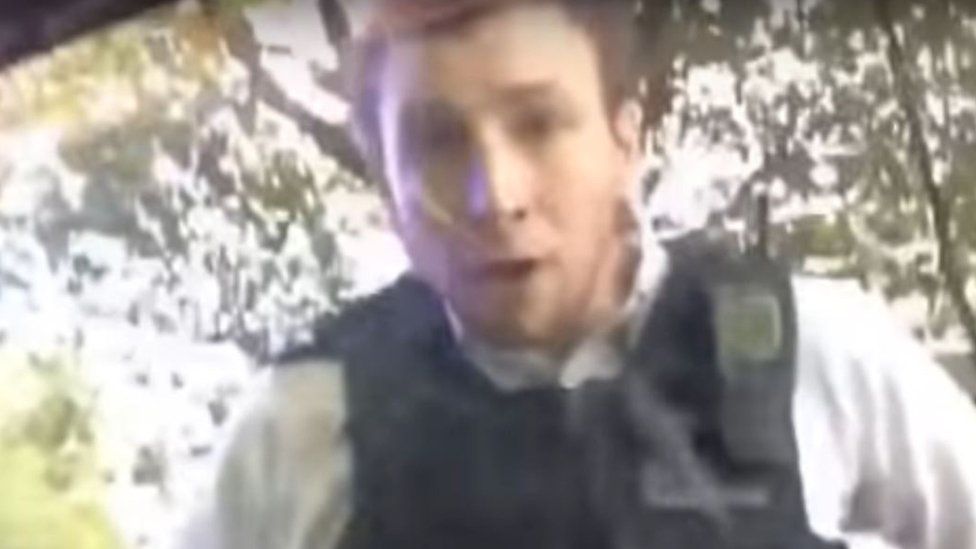 A police officer accused of sawing through a car windscreen claims a rise in London's violent crime is due to police being too afraid to make arrests.
PC Joshua Savage allegedly attacked Leon Fontana's Ford Fiesta with a baton before cutting the smashed glass with a lock knife on 16 September 2016.
The officer denies possessing his own Swiss army knife unlawfully.
He claims his actions were necessary for his own protection.
The incident on Vicar's Road in Camden, north-west London, was filmed by Mr Fontana and shared widely online at the time, Southwark Crown Court heard.
Mr Savage told the court that when the filming began, it seemed like Mr Fontana wanted to repeat the exchange from the beginning "for the benefit of the community and his YouTube fans".
"This is the problem we are seeing throughout London - police officers are more reluctant to deal with things because they are scared of what might come afterwards", he said.
"Hence why we are seeing gang members not being disrupted and the rise in violent crime."
Mr Savage said Mr Fontana repeatedly failed to comply with his commands.
He told the court his decision making was "in line with the need to protect myself and my colleagues or to prevent harm occurring to members of the public or their property".
Giving evidence, Mr Fontana said: "I thought if I left that car I would have been in danger certainly.
"I certainly wasn't getting out to a police officer with a knife and a cosh in his hand."
He told the court he had glass removed from his eye and paid £175 to fix the windscreen following the alleged attack.
Mr Savage, of Hermon Hill, Wanstead, north-east London, denies charges of possessing a bladed article, common assault and destroying property.
He has been placed on restricted duties and is on unconditional bail.
Related Internet Links
The BBC is not responsible for the content of external sites.