Government 'complicit in school's illegal exclusion policy'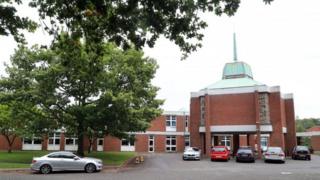 The government has been "complicit" in an illegal policy that saw a school force out pupils unlikely to achieve high grades, campaigners have claimed.
They said the Department for Education did not take punitive steps against the head at St Olave's school in south-east London because it was partly to blame.
The DfE's increasingly stringent league table criteria forces schools into "dubious" policies, campaigners said.
The DfE said it wrote to schools to say such expulsions were illegal last year.
The practice, found to be illegal in an independent inquiry commissioned by Bromley Council, was introduced and overseen at the school in Orpington over a seven year-period by former headmaster Aydin Önaç.
It was reversed in September when a group of parents threatened a judicial review and Mr Önaç resigned at the end of 2017.
The BBC understands Mr Önaç has been referred to regulatory body the Teaching Regulation Agency (TRA), but Andrew Gebbett, who has two sons at St Olave's, said he believed the DfE should have "taken the lead".
The DfE said it wrote to secondary schools reminding them the policy was unlawful.
Education law specialist Anita Chopra said it was usual for such referrals to be made by an employer or a parent.
She said if the TRA decided Mr Önaç's case was worth investigating, he could be banned from teaching.
Official guidance states employers, in this case St Olave's school, have a "statutory duty to consider referral of cases involving serious professional misconduct to the TRA", even when a teacher has resigned before they could have been dismissed.
The school said a referral was "considered, but due to a lack of evidence was not felt appropriate".
'Weeding out'
Michael Pyke, spokesman for the Campaign for State Education, said it was "hardly surprising" Mr Önaç was not facing any repercussions because "he wasn't the only person who knew about this practice".
"The DfE, the local council, the diocese - they're all complicit," he said.
Nuala Burgess, spokeswoman for campaign group Comprehensive Future, said she believed the DfE was complicit by "indirectly forcing schools to do these things".
DfE policies placing increasing importance on league tables drove schools into "all sorts of dubious practices, including the 'weeding out' of year 12s," said Ms Burgess, who recently completed a doctorate into sixth form selective practices.
A spokesperson for Bromley Council said it wrote to the school a day after receiving the first complaint about the exclusion policy in July 2017.
The Diocese of Rochester, which is involved in the running of the school, said it accepted the report, which it said made clear the relationship between the diocese education board, council and school needed to be better.
"This is something that is much more positive now," it said.
The report does not make any mention of the TRA or a possible referral.
'Young lives ruined'
Rhonda Galpeer, whose daughter previously went to St Olave's, said: "I can't believe [Mr Önaç] has got away so easily with everything. No sanctions have been put on him."
Debbie Hills, another parent of an ex-pupil, added: "None of these people has been held to account, yet young lives have been ruined because all those professionals put in place to protect them all chose to do nothing."
Before his time at St Olave's, Mr Önaç was at Fortismere School in Haringey where he was criticised by parents for reducing provision for children with special educational needs.
A group of parents were in the process of going to judicial review on behalf of their children at Fortismere, the council-commissioned report said, but he left before they could take that further, to take up his role at St Olave's.
"He resigned there too before they could take him to court," Ms Galpeer said. "He has a history. He should be banned."
Thousands 'off-rolled'
Mr Pyke and Ms Burgess agreed St Olave's was "only the tip of the iceberg" and the practice of "off-rolling" under-achieving students was widespread.
In 2017, more than 22,000 children were "off-rolled" from state schools before sitting their GCSE exams, according to think tank Education Datalab.
The majority of them were recorded as having transferred to "alternative provision" - something Mr Pyke described as a "dubious form of education in which most children achieve nothing at all".
Most off-rolling, Mr Pyke said, happened at schools teaching "pupils from deprived homes, who don't have anyone to speak up for them".
He said St Olave's "got caught because its students' parents came from well-to-do homes". He added it was a "regrettable one-off, but it won't deter other schools".
Mr Önaç has been approached for comment but has not responded.