Accused PC Joshua Savage cleared of assault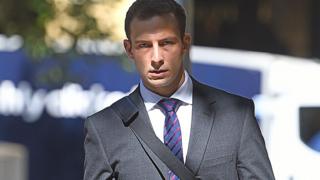 A police officer who sawed and smashed his way through a suspect's windscreen with a knife has been cleared of assault.
PC Joshua Savage allegedly attacked Leon Fontana's Ford Fiesta with a baton before cutting the smashed glass with a lock knife on 16 September 2016.
Police mistakenly thought the driver was a potentially violent drug dealer.
Mr Savage was cleared of destroying property, common assault and possession of a blade at Southwark Crown Court.
The incident left Mr Fontana with a shard of glass in his eye that had to be removed by a doctor, and he was forced to pay £175 to have his windscreen repaired.
Following the jury's verdict on Friday, Judge Christopher Hehir urged the Metropolitan Police to do the "decent thing" and compensate Mr Fontana for the repair.
Mr Hehir said: "At the end of the day it was his car, he was entitled to drive it on a public road and he ended up having his windscreen smashed in, and that wasn't his fault and I don't think it's fair that he should have to pay the cost of it."
The force has been approached for comment.
The incident at about 17:25 BST on Vicar's Road in Camden, north-west London, was shared widely online at the time, provoking a public outcry.
Mr Savage's actions were described by the prosecution as those of "a bully in uniform".
The officer, of Hermon Hill, Wanstead, north-east London, previously told the court he thought the driver was a violent drug dealer called TJ Dixon who may have had a weapon and only a provisional licence.
A radio check on the vehicle told him it had previously been used to make off from police and he was unable to see into the car properly because of its tinted windows, the court heard.
In footage played to the jury, Mr Savage can be heard telling Mr Fontana to "get out of the car" because he was "not allowed to drive it".
But Mr Fontana refused to leave his vehicle and placed his keys on the dashboard, the footage shows.
In his evidence, he said he felt that leaving his car would have put him in danger.
"I certainly wasn't getting out to a police officer with a knife and a cosh in his hand," he said.
Misconduct hearing
Mr Savage, of Hermon Hill, Wanstead, north-east London, has been on restricted duties with the Met since the incident. A spokesman for the force said this would now be reviewed.
Despite his acquittal, Mr Savage still has to satisfy the Independent Office for Police Complaints (IOPC) that he is fit to serve as an officer.
The police watchdog said its investigation found a misconduct hearing could decide that PC Savage's actions amounted to gross misconduct.
The Met Police did not agree, the IOPC said, and a misconduct hearing will take place "as soon as possible".