Westminster council mounts legal challenge over cycle superhighway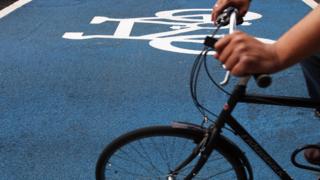 A council has mounted a legal challenge against Transport for London (TfL) over a planned cycle superhighway linking north-west London to the West End.
Planned building works have been halted after Westminster council launched a judicial review into CS11.
The authority claimed it would lead to congestion and increased air pollution around the Swiss Cottage gyratory.
Deputy mayor for transport Heidi Alexander has labelled the council's move a "disgrace".
The High Court has ruled TfL must not start any works at Swiss Cottage until the judicial review proceedings have concluded.
Ms Alexander said "it will not be possible to make our roads safer if we are taken to court by other public authorities" and urged politicians "on all sides and at all levels" to "wake up and take their responsibilities seriously".
A council spokesman said the authority was "not anti-CS11 or cycling" but wanted TfL to "take the time to deliver something that works for both cyclists and residents".
Work on CS11 was due to begin on Monday. City Hall previously announced the scheme had been backed by 60% of people in a consultation.
A full judicial review hearing is scheduled for 6 September.
So far in London, six cyclists have died as a result of road accidents.