Royal British Legion artwork gives thanks to WW1 generation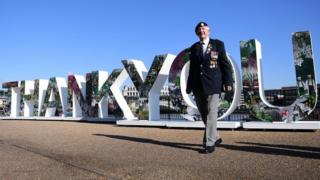 A huge art installation has been placed beside the River Thames in London to say thank you to those who fought in and lived through World War One.
The giant message has been created by The Royal British Legion to give thanks to "all who served, sacrificed, and changed our world."
The artwork features 8ft (2.4m) high letters which include blank spaces for the public to add their own notes.
Today marks 100 days until the 100th anniversary of the end of the war.
The legion said they hoped the public would use the period before 11 November "to take part and find ways of saying thank you."
It wants people to give thanks not only to those who fought and lost their lives but also the people who played their part on the home front.
The artwork features a design by artist Sarah Arnett which features various legacies of the war, such as the "Munitionettes" who worked in weapons factories and Indian infantrymen who served on the Western Front.
Author Sir Michael Morpurgo, an ambassador for the campaign, said it was important to say thanks to people like "the farmers who gave up their horses to the war effort, to the women who kept our home fires burning."
The giant thank you will go on tour throughout the UK during August and visit the following cities:
Plymouth - 13 August
Birmingham - 15 August
Dundee - 17 August
Belfast - 20 August
Liverpool - 22 August
Swansea - 24 August
Charles Byrne, director general of The Royal British Legion, said they were "making a plea to every single person across the UK to get involved and take a moment in this very significant year to say thank you."