Dozens of London council estates earmarked for demolition
By Zack Adesina, Claire Brennan & George Greenwood
BBC Inside Out, London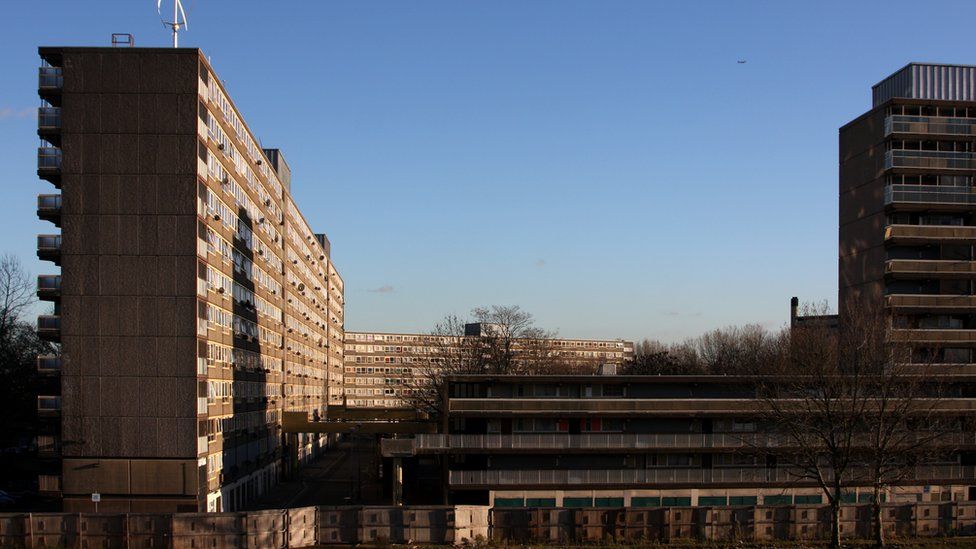 Dozens of council housing estates in London have been slated for redevelopment, raising concerns that social housing will not be replaced.
More than 31,000 residents will be affected in 118 sites undergoing or facing regeneration.
Campaigners say nearly 8,000 homes could be lost over the next decade.
London Mayor Sadiq Khan has told councils they must now ballot residents on regeneration plans to secure City Hall funding.
Of the estates to be regenerated, more than 80 will be fully or partially demolished, according to council responses to a BBC freedom of information request.
One of the sites that has seen the biggest loss of homes is the Heygate estate in Southwark.
More than 1,200 council properties were torn down between 2011 and 2014 and replaced by a luxury development called Elephant Park.
Just 82 of the 3,000 new homes on the site were for social rent.
"All the promises made to the residents about new homes, which the residents could move into immediately, were all broken," said housing campaigner Jerry Flynn.
Green London Assembly member Sian Berry told the BBC there had been a net loss of 4,000 homes on estates undergoing redevelopment since 2003.
She analysed planning permissions via the London Development database and found a further 7,600 homes would be lost on regeneration sites over the next decade.
She said: "Some estates need refurbishment. But if you're going to... knock it down and rebuild it, if you don't at least provide the same number of council homes then you really are failing."
Figures from the Ministry of Housing showed the number of local authority homes in London has fallen by 100,000 since 2003, when Right to Buy and stock transfers to housing associations were taken into account.
There are currently about 250,000 Londoners on housing waiting lists.
In Westminster, the city council plans to flatten 300 homes at the Ebury Bridge estate in Pimlico to make way for 750 new properties, the majority of which will be sold on the private market.
The council said all secure tenants would have the opportunity to return and more than 80 additional social rent homes would be built.
But some residents, concerned by previous regeneration schemes such as the Heygate, have started a campaign to halt the demolition.
Kari Haslam has lived there for 25 years. She said she had not been told where she would be re-housed while the regeneration was happening or how long it would take.
"The council have told us most people want it demolished, however, a group of us residents have done our own survey and we've come up with very different findings.
"My neighbours are fantastic... with my bipolar condition I have got really good support from the care team in the area.
"I would hate to lose all of that and have to start again."
The council told the BBC the process would take "a few years".
Mayor Mr Khan has pledged to build 10,000 council homes over the next four years. He said any plans for estate regeneration should protect existing social housing levels and residents on estates must be balloted on proposals. But votes are only required for major redevelopments in need of mayoral funding.
Westminster has therefore not been required to ballot residents on the Ebury, as the regeneration was not dependent on City Hall funds.
Ms Haslam said she thought that was "really wrong".
Westminster City Council told the BBC: "People have been involved in all processes of the redesign… of those who responded to the formal consultation the majority were in favour of the proposals."
The Greater London Authority said Ms Berry's data on the loss of council homes did not take in to account new build projects and that, including these, there had been a net increase in social housing supply over time.
A spokesperson for Southwark Council said most of the original Heygate tenants had been re-housed within the borough but said the council had learned lessons from the redevelopment.
Inside Out airs on BBC One London and BBC One HD at 19:30 BST on Monday 3 September.
Related Internet Links
The BBC is not responsible for the content of external sites.