Queen's 'homeopathy physician' killed cycling in London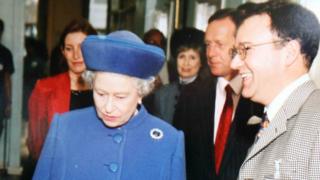 A physician to the Queen was killed in a cycling crash in central London.
Dr Peter Fisher, 67, died in a crash with a lorry in High Holborn on Wednesday morning.
Despite treatment, he was pronounced dead at the scene, becoming the seventh cyclist to die in the capital this year.
The Royal London Hospital for Integrated Medicine (RLHIM) described Dr Fisher as "a highly regarded colleague and friend".
Police said no arrests have been made and the lorry driver, who stopped at the scene, is helping with their investigation.
Dr Fisher, who lived in Highgate, north London, was an expert in homeopathy and a member of the royal medical household.
He was director of research at RLHIM in Bloomsbury, where he had worked for 35 years and president of the Faculty of Homeopathy.
University College London Hospital Medical Director, Dr Gill Gaskin, said: "Peter was a highly regarded colleague and friend of many at the RLHIM.
"He was an international figure in homeopathy who was committed to holistic and compassionate care for his patients.
"He will be greatly missed by his colleagues and patients alike."
The Queen has been informed of his death.
The crash involved a lorry owned by CCF, a company which distributes building products to the construction industry.
The company said in a statement that it was working with police "to determine exactly what happened".
It also offered its sympathies to Dr Fisher's family.