Man 'first to be jailed' for selling skin lightening products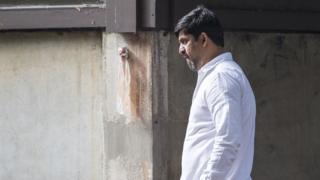 A shopkeeper has been jailed for selling toxic skin lightening products, in a landmark case.
Mohammed Iqbal Bharodawala, 45, from East Ham, admitted nine charges of selling products which contain banned ingredient hydroquinone.
The father-of-six also admitted 15 counts of inadequately labelling harmful products, through his company Jenny's Cosmetics Ltd.
Bharodawala was sentenced to 20 months at Southwark Crown Court.
He becomes the first person to serve a jail sentence for selling skin lightening products, and will serve half of his term in custody.
Bharodawala, of Heigham Road in east London, was previously handed down a 12-month suspended sentence and £1,300 fine in November 2015 for similar offences.
His 35-year-old brother, Abdul Kadar Bharodawala, who ran the Jenny's Online Ltd shop, was sentenced to 80 hours unpaid work at Inner London Crown Court.
Their company was fined £500.
In sentencing, Judge Freya Newbery said the defendants "no doubt" knew about their obligations as a distributor of cosmetics products.
"You should not have been marketing products which contained banned substances, especially hydroquinone," she said.
Products containing hydroquinone can damage the liver and nervous system.
Citing research by Southwark Council's Trading Standards, Judge Newberry added: "It's relevant that... a desire for fairer skin is driven by a deep-rooted complex and social, cultural and historical reasons."
An inspection by Southwark Council in January 2018 led to 260 items being seized from Jenny's Cosmetics' shop floor and stockroom in East Street, south-east London.
A test purchase of three products on eBay revealed similar products were also being sold by Jenny's Online Limited run by father-of-four Abdul.
Of the items purchased online, a Grace Duo lightening cream was found to contain 17.6% hydroquinone after being sent for analysis.