Extra police powers issued for Notting Hill Carnival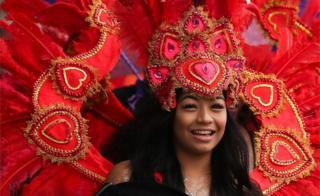 Extra stop-and-search powers have been granted to police for the Notting Hill Carnival in west London.
Scotland Yard imposed the Section 60 order until midnight on Sunday following "incidents of violence... across the city over the last week".
Over two days there were five shootings and a man was fatally stabbed in Deptford on Saturday.
One million people are expected at the Carnival over the weekend, with Sunday known as family day.
Scotland Yard said numbers attending "appear lighter than normal" which they thought was "probably due to the rain".
It said there had been "no issues to report."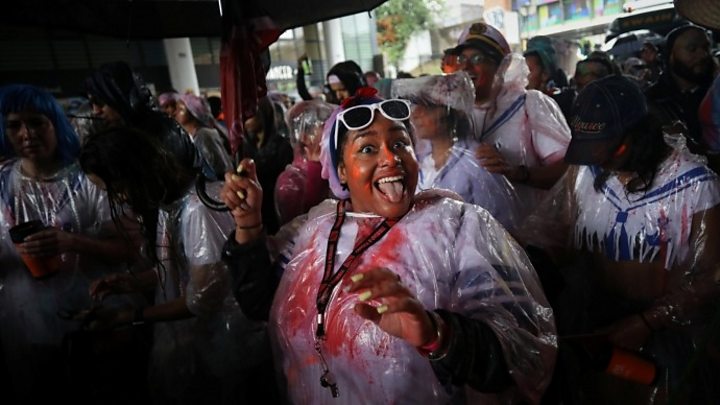 The two-day event is being policed by the highest number of officers in six years, with some 13,000 officers deployed.
Knife arches, which are used to detect blades and deter people from carrying them, were installed for the first time at "strategic points" across the Carnival.
The event's Gold Commander Dave Musker said the extra powers would "reassure our communities that we are constantly working to protect them".
"It will also send a message to those intent on committing acts of violence that we will robustly target them," he said.
Notting Hill Carnival Limited executive director Matthew Phillip said the knife arches were part of a wide-ranging "belt and braces" approach to keeping the event safe.
The festivities began on Sunday at 06:00 with the "J'Ouvert" where revellers douse themselves in colourful paints and powders before the parade and official opening ceremony at 10:00.
Performer Alexandra Burke was unveiled as the Carnival's first ever ambassador as performers took to the parade route.
The role has been created to help promote the community spirit and positive aspects surrounding the annual event.
She told crowds at the opening ceremony to "have the best day no matter what the weather is saying."
A 72-second silence was held at 15:00 BST, and will take place again on Monday, in tribute to those who died in the Grenfell Tower blaze, which happened close to the parade route.
One of the Carnival's headliners, singer and DJ Popcaan, has tweeted to say he will no longer be performing at the event due to "unforeseen circumstances".