Notting Hill Carnival 2018: Man stabbed and 30 officers injured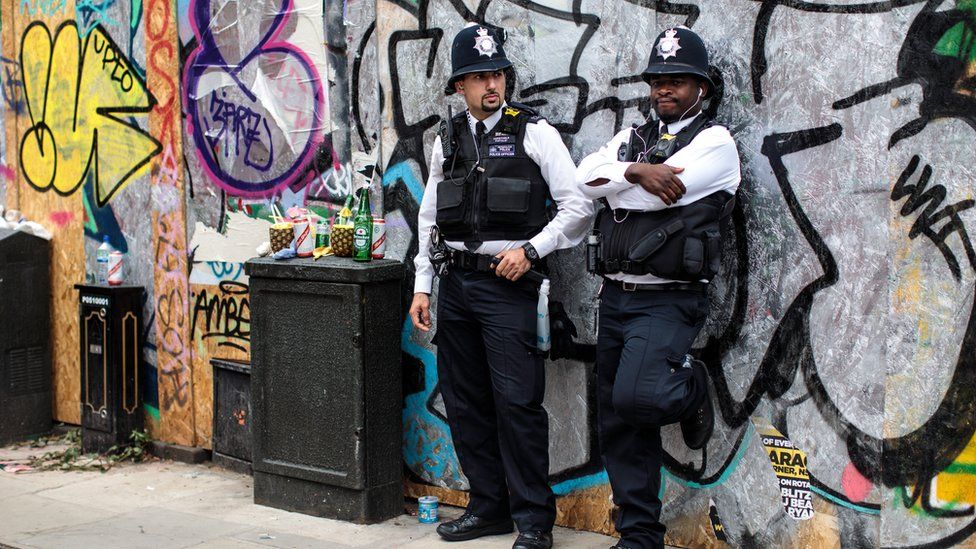 One man was stabbed and 30 police officers hurt at Notting Hill Carnival, Scotland Yard has confirmed.
More than 370 arrests were made at the event over the bank holiday weekend, according to the Met.
One million people attended the carnival during the two-day festival.
Up to 156 people were detained for drugs offences, 69 arrested on suspicion of possession of an offensive weapon and nine on suspicion of sexual offences.
The Met said 30 officers were injured "in the line of duty", while 133 arrests were made on Sunday and a further 240 on Monday.
There were up to 313 arrests at last year's carnival.
The Met Police operated with enhanced stop-and-search powers this year in a bid to crack down on violence.
A Section 60 order was imposed across the carnival area between 09:00 BST and 23:59, allowing officers to search people believed to be carrying offensive weapons.
Notting Hill Carnival Gold Commander Dave Musker said: "Monday night was marred by the news of a non-life-threatening stabbing in Ladbroke Grove.
"Thankfully this was the only incident of this nature throughout the whole weekend.
"Although I am happy with how the event ran overall, once again 30 of my colleagues were injured in the line of duty. Any assault on police is unacceptable."
Among items seized by police were knives, a metal pole and a Taser.
Almost 7,000 officers from the Metropolitan Police's newly formed Violent Crime Task Force, policed Monday's event to "combat the threat of violent crime".
Knife arches, which are used to detect blades and deter people from carrying them, were also installed for the first time at "strategic points" across the carnival.