Windrush: Migrant Dexter Bristol's family walk out of inquest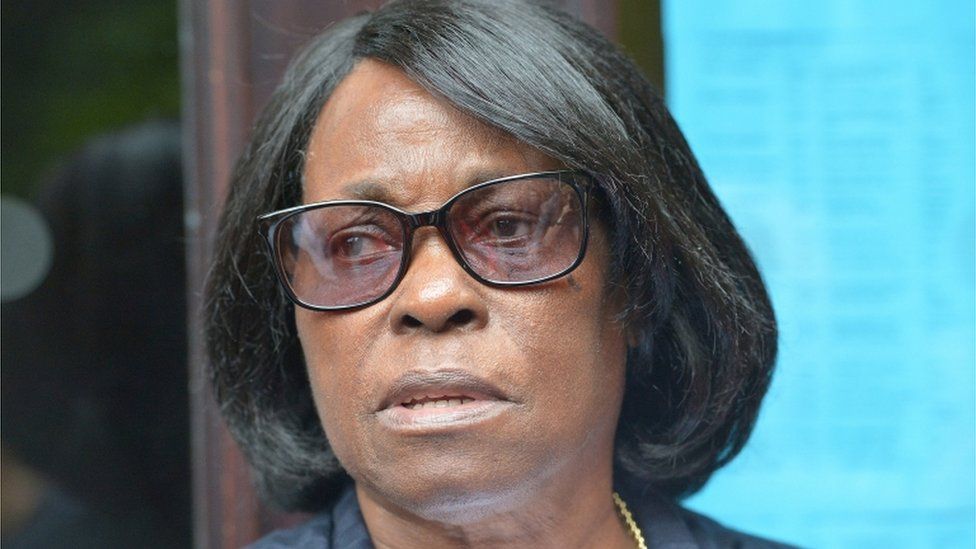 The mother of a Windrush migrant has walked out of his inquest after the coroner was "very rude".
Dexter Bristol, 57, collapsed and died in the street on 31 March while trying to prove his British citizenship.
His family wanted to make submissions to the court about the role Home Office policy might have played in Mr Bristol's death.
But Coroner Dr William Dolman ruled the policy was not relevant to the immediate circumstances of his death.
He said it was "absolutely clear" Mr Bristol was under "some sort of distress or pressure", but added this was not solely because of his immigration status.
Sentina Bristol and other family members left the hearing after the coroner ruled the Home Office should not be considered an interested party.
Dr Dolman apologised to the family, who said they wanted "justice".
However, he lost his job in 2017 and could not get a new one because he did not have a passport or documents proving his right to work.
Mr Bristol died of natural causes after suffering acute heart failure near his home in Camden, north London, the coroner ruled.
He had not visited his GP for more than a year and believed he could not change surgeries unless he proved his immigration status.
Mrs Bristol, a trained nurse and British citizen, said the family was "disappointed" about an unsuccessful adjournment application at St Pancras Coroner's Court.
She added: "We want justice, that's what we're fighting for."
Before the family withdrew from proceedings on Tuesday, the court heard a heated exchange between Dr Dolman and the family lawyer.
Dr Dolman accused Una Morris of "trying to tell me how to run my court" and repeatedly ordered her to sit down.
He later apologised to Ms Morris and Mr Bristol's family, saying: "I didn't mean any discourtesy at all."
Ms Morris told him family members were "deeply upset at the way you spoke to me".
Mrs Bristol said although Dr Dolman was not speaking directly to her, "he was very rude".
She described her son as someone who was "very quiet", "bright" and "never got into any arguments with anyone".
Mr Bristol's immigration lawyer, Jacqueline McKenzie, said after the hearing that her client had been "robust" but was "distressed by the fact that he was having to prove his status in the country".
"He was prepared to fight but as the months went on and he was required to find more evidence it became very difficult and we saw him just decline into a shadow of himself," she added.
Related Internet Links
The BBC is not responsible for the content of external sites.