Grenfell Tower: Man jailed for £53k relief fund fraud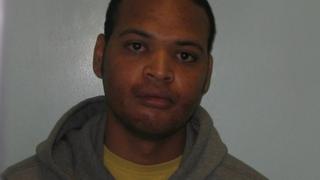 A cleaner who stole more than £53,000 in relief funds intended for victims of the Grenfell fire has been jailed.
Antonio Gouveia stayed in a £155-a-night hotel in Marylebone for 289 days and took food and cash handouts.
The Portuguese national, 33, claimed he was living in a flat with an elderly woman on the night of the tragedy on 14 June 2017, which left 72 people dead.
He was jailed for three years and two months on Thursday.
Gouveia received cash and £44,795 in accommodation at the Cumberland Hotel, as well as funds and a free laptop from a charity set up in the wake of the tragedy.
He pleaded guilty to two counts of fraud by false representation at Westminster Magistrates' Court in August.
Judge Giles Curtis-Raleigh said: "Most people reacted with horror and dismay, and feelings of deep sympathy and profound concern for the survivors, and those others most directly affected.
"Many did what they could to help in a spontaneous outpouring of generosity and compassion.
"Your response was different - you decided to use the situation to your personal advantage, to enrich yourself dishonestly by plundering the public funds put aside to assist genuine victims of that disaster in their hour of need."
Mary Van Woodenberg, for Gouveia, said the father-of-two had been sleeping rough for eight months before the disaster.
"He's not a hardened criminal or a man who did this for financial gain, but a desperate man who did this out of necessity," she said.
Gouveia is the 11th person to be charged with a fraud offence relating to the fire.